11th Street celebrates National Register of Historic Places inclusion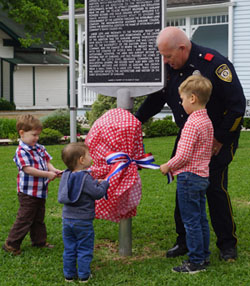 Saturday, April 22, marked the celebration of the inclusion of the Travis College Hill Addition's listing on the National Register of Historic Places.  Attendees enjoyed a tour of five of the historic homes on South 11th Street as well as a plaque unveiling ceremony.
Greg and Becky Baxter, Jim and Cindy Bird, Louis and Kay Moore, hosts the event, as well as occupants of two rental properties, graciously opened their homes for tours. Another rental home was open to those who wished to watch "Saving Magic 11th Street," an award-winning documentary that follows the transformation of an almost unlivable neighborhood to the jewel that it is today.
Numerous dignitaries attended the home tour and the plaque unveiling. State Representative Cindy Burkett, Garland Mayor Pro Tem Scott LeMay, Garland City Council members Lori Dodson, B. J. Williams, Stephen Stanley and Rich Aubin were on hand for the festivities, as well as City Manager Bryan Bradford. Garland ISD Board of Trustees President Linda Griffin and Garland Planning Commission members Scott Roberts and Chris Ott also attended as well as Paul Mayer from the Garland Chamber of Commerce. Don Baynham, past chairman of the Dallas County Historical Commission, served as master of ceremonies.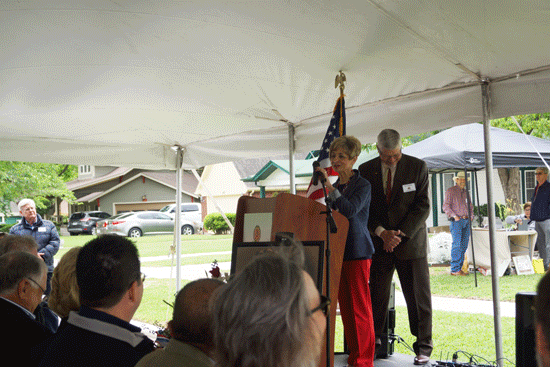 LeMay reminded the audience that "Magic 11th Street didn't just magically happen." It involved a tremendous amount of work and he expressed the city's pride in the accomplishments of Louis and Kay Moore. The Travis College Hill neighborhood was the first in the city to achieve historic designation as well as the first to be named to the National Register of Historic Places.
Kay talked about the homes, the families that currently live in them and those who have lived in them in the past. Some past residents of the homes and some of their family members were in attendance.
"Many children have been born and loved ones have died in these rooms," she said. "Lots of living has gone on in these homes."
Kay dedicated countless hours to research into each home to obtain information required by the National Register of Historic Places. She said that the help of past 11th Street resident, 97-year-old Hortense Weir Smith, was invaluable. Smith's son Doug and her daughter and son-in-law Sally and Sten Williams also joined in the celebration.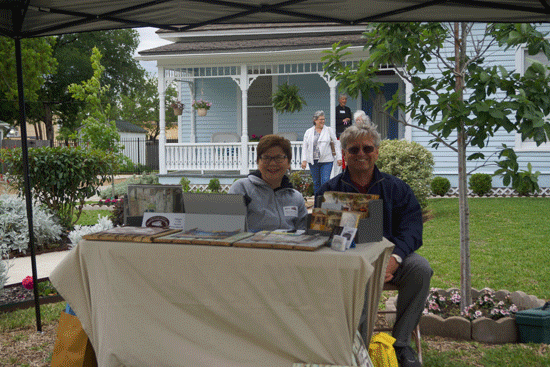 "We just can't say thank you enough for all that you've done for us," Kay told Smith.
Another special guest was Robie Vaughn, the great-grandson of R.O. Travis, who owned the 28 acres that became the Travis College Hill Addition.
Louis recognized architect Scott Roberts for his help with architectural information on the National Register of Historic Places report. Roberts also took photos of the homes and those photos are now in the permanent record in Washington D.C.
"He [Roberts] carefully followed extensive, exhausting guidelines that were provided by the Texas Historical Commission," Louis said.
Paul Mayer of the Garland Chamber of Commerce addressed the importance of this designation from an economic development standpoint. He then introduced Garland hero, GPD Officer Greg Stevens, who took down the terrorists at the 2015 attack at the Culwell Center.
Stevens, along with young family members of 11th Street residents, Miles Peacock, Archer Welch and Parker Baxter, unveiled the plaque.