Santa Claus coming back to Garland, Rowlett, Sunnyvale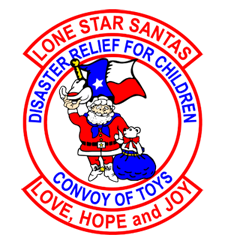 The Lone Star Santas will bring their Convoy of Toys to the area Saturday, Jan. 30 to visit children who were affected by the Dec. 26 tornado.
Santas and Mrs. Claus will welcome the disaster victim families for some LOVE, HOPE, JOY and TOYS all wrapped in a big Santa Hug after the devastating tornado that impacted these communities.
This event is supported by the fine folks in the Garland, Rockwall and Sunnyvale Independent School Districts, along with many other caring folks as well.
Lone Star Santas is a unique, 501(c)(3) nonprofit charitable all-volunteer organization that provides toys directly to children and families affected by natural disasters. The group is sanctioned by the American Red Cross, FEMA and various faith-based organizations that provide relief to disaster victims. All of the organization's Santas are background-checked and many are hospice trained.
The group of Santas has collected thousands of NEW toys and they are headed back to Garland and Rowlett for a Christmas 'RE-DO' so that they can bring toys directly to the children and families affected by the devastation.
Families will also have the opportunity to have pictures taken with Santa to replace ones that might have been lost in the tornado.
Lone Star Santas have distributed Love, Hope, Joy and Toys all wrapped up in a Big Santa Hug to children and families affected by Texas tornados in Van, Lancaster, Granbury and Cleburne, the wildfires in Bastrop and Magnolia and the explosion in West, Texas.
Their first 'Convoy of Toys' went to Joplin, Missouri after the F5 tornado ripped through that community in 2011.
Register your child(ren) at www.familytracentx.com. Click the Lone Star Santa sign-up button to register. An invitation will then be emailed.
For more information contact: Santa Doug Portwood – email rdportwood@aol.com or call 303-981-3883.