Remington College Dallas to hold blood drive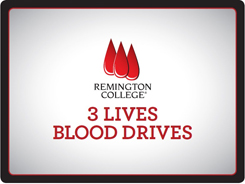 Remington College invites people to give blood at its upcoming 3 Lives Blood Drive at the Dallas campus located at 1800 Eastgate Drive in Garland. The drive will be held Wednesday, March 2, from 8:45 a.m. – 2 p.m. Remington College is partnering with Carter Blood Care for this event.
Remington College founded the 3 Lives program to be a national effort to recruit minority blood donors and help provide local hospitals with needed blood. Minority donors – particularly African-American donors – are in high demand because they provide blood with unique antigens that are vital for patients with sickle cell disease and other blood disorders.
Nationally, the college has collected more than 13,000 pints of blood through the 3 Lives Blood Drive program. And because one pint of blood can save three lives, that is enough blood to save more than 39,000 lives.
While the focus of the 3 Lives Blood Drive program is to highlight the need for minority blood donors, everyone is encouraged to give blood at the event. Donors are required to be 17 years of age or older and 110 pounds.
All the blood that is collected at the March 2 drive will go to local hospitals and medical centers to help people in the community.
About the college: 
Nonprofit Remington College, headquartered in Heathrow, Flor., operates 16 college campuses throughout the United States offering career focused diploma, bachelor and associate degree programs in a variety of career fields.
For more information, please visit remingtoncollege.edu. Also read the latest news about Remington College on our Facebook page, facebook.com/remingtoncollege.
Remington College does not discriminate on the basis of race, color, national and ethnic origin in administration of its educational policies, admissions policies, scholarship and loan programs and other school administered programs.