Don't miss GSM's 'Fiddler on the Roof'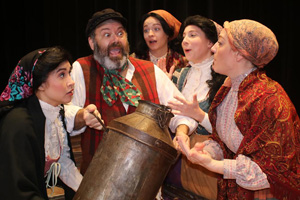 Garland Summer Musicals is enjoying huge success with its production of "Fiddler on the Roof." With music written by Jerry Bock, lyrics by Sheldon Harnick and book by Joseph Stein, the musical has been a longtime favorite of theatre enthusiasts everywhere.
"Fiddler on the Roof" is the story of Tevye and his five daughters who live in the small, tradition-rich Jewish town of Anatevka, Russia. Jewish custom calls for a matchmaker to choose husbands for the daughters. The girls have other ideas and three of them fall in love with men who do not meet traditional expectations.
At the same time, Tevye is concerned because the Russian czar is attempting to remove all Jewish people from the country. Throughout the course of the musical, Tevye wonders how he will be able to follow his faith during this time of great change.
The show includes iconic songs such as "If I Were a Rich Man" and "Matchmaker, Matchmaker."
GSM producer Patty Granville reported that the show has set a new box office record and that one of the three remaining performances has already sold out.
"We are thrilled with this production of "Fiddler on the Roof" that is being directed by Michael Serrecchia," Granville said. "We have one of the largest casts we have ever had onstage — 47 people — and they are all superb. The show has been magical and the audiences absolutely love it!"
Granville added that Randy Pearlman is brilliant in the role of Tevye. She said that he brings humor and pathos to the stage as a father dealing with life's trials and tribulations.
The show includes special effects in the dream sequence that Granville will not divulge in advance. She does say that it is one of the most exciting scenes that GSM has ever created onstage.
The choreography is by Paula Morelan and Julie Russell Stanley. The set designer is Rodney Dobbs. Costumes are by Suzi Cranford and Michael Robinson. Susan White is in charge of lighting design.
Genevieve Croft, an associate critic for John Garcia's THE COLUMN, said in a review, "I often have high expectations of any production of "Fiddler on the Roof." The Garland Summer Musicals production of Fiddler does not disappoint."
Croft noted Serrecchia's great direction and complimented the set design. She also described the costumes as having "fine attention to detail."
Don't miss this wonderful production of "Fiddler on the Roof" at the Granville Arts Center, 300 North Fifth Street in downtown Garland. Remaining shows are June 24 and 25 at 8 p.m. and June 26 at 2:30 p.m.
Tickets/information:
For information and to purchase tickets, visit: http://www.GarlandSummerMusicals.org.