Achievement Center of Texas director advocates for special needs individuals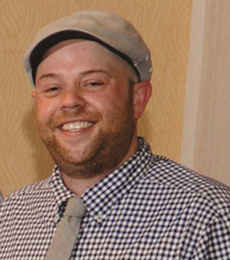 Andrew Mlcak, who recently became executive director at the Achievement Center of Texas, was raised by parents who encouraged helping others and that's what he has done throughout his career.
"I think that's probably my calling in life, to help people, especially people with disabilities," he said. "My parents were probably the most generous people I've ever known and they taught my siblings and me to have a giving spirit. It was instilled in us that giving back is important, not taking for granted what we have and helping out wherever we can and whoever we can."
He and his brother had a close friend with disabilities who passed away in his early teen years and it made an impression on Mlcak. Later, in his 20s, he worked at a summer camp for people with disabilities, which he said served as "an eye-opener."
"There was a camper who had a 24-hour nurse and lots of equipment, but we did the ropes course with him," he said. "That helped me realize that things can be adapted so that people with disabilities can do things that everyone else can."
Mlcak recalls starting to work at Achievement Center of Texas.
"I was a typical millennial. My parents were just trying to get me off the couch," he said. "I had no idea that it would develop into me taking over the organization in 10 years."
He began by working in a classroom and after three years became assistant to Marilynne Serie, who was executive director. It gradually became apparent that he would take over when Serie retired.
Mlcak said that being with the students makes him a better person.
"The students and the staff make working here a pleasure. I never dread going to work. I enjoy every day," he said. I want to write grants to get things for the students and I want to fight for them and make it where they can do whatever they want to do and not have limitations set for them by legislators and lack of funding."
Mlcak pointed out that Texas is ranked 49th for people with disabilities and the biggest problem is that they are often overlooked because they are not voters and they are not a represented group.
"That makes it hard for their voices to be heard and they get the scraps that are left," he said. "Programs for them are often the first things cut from budgets."
To help, people should write their legislators and tell them that more and better programs are needed and the programs should not be cut when the budget has to be trimmed.
"Be vocal," Mlcak said. "The people with disabilities have so much more to offer than they are given credit for."
ACT serves 126 students daily. It is a licensed daycare for up to 14 students, ages 3-13. Students then join the adult program where they learn functional living skills including cooking, cleaning, making the bed, grocery shopping and money management.
There are several ways to help ACT. Their biggest need is monetary donations. Books and art supplies are also needed. The students love meeting new people and enjoy when volunteers come to read to them or just spend time with them.