ACT executive director celebrates retirement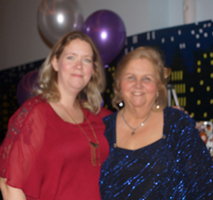 After 30 years of service to the Achievement Center of Texas, Executive Director Marilynne Serie celebrated her retirement Saturday, Jan. 21. In his address to the retirement party attendees, incoming Executive Director Andrew Mlcak called Serie the "most amazing person he had ever had the pleasure to work with." He also said that he is honored to have the opportunity to carry on her legacy.
Serie was the executive director at ACT for 30 years and was, in large part, responsible for its success. The center opened in 1987 with 25 students in a church Sunday School room then moved to the Granger Recreation Center, then had the great fortune of being gifted land upon which to build today's facility.
Through the efforts of Serie, ACT employees, countless volunteers and many generous donors, the center has become a home away from home for its students with disabilities, currently numbered at 135.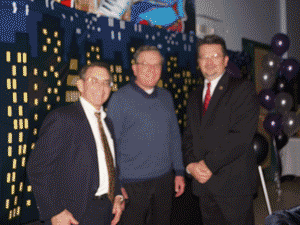 As executive director, Serie accomplished great things for ACT students. The Arts Exploration Program and Summer Talent Show give the students an opportunity to showcase their creative abilities.
Additionally a Community Inclusion Program helps students learn how to do things like buy groceries and write checks. There are also self-confidence building sessions where students learn about hygiene, makeup application, exercise, appropriate dress, as well as how to talk about their feelings. This is only a small sampling of the ACT's programs.
Love and respect for Serie were expressed by center employees, volunteers, board members, family, friends and other ACT advocates. All wished her happiness in retirement and many emotionally described the positive impact that she had on their lives. Parents also expressed gratitude for what the center, under Serie's watch, had done for their children. The incoming executive director also provided emotional well w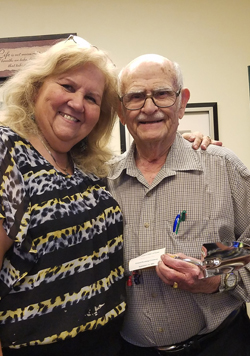 ishes.
"Don't worry about us. This is your time. It's all about you. You deserve it. You've earned it," Mlcak told Serie
Family members were in attendance to celebrate with her and Mayor Pro Tem Scott Lemay and former Council Member Jackie Feagin were on hand to congratulate her as well.
Feagin, a longtime ACT advocate and friend of Serie paid her a surprise visit a few days before the party. He brought the shovel he had received at the ACT groundbreaking Sept. 14, 2001. It was inscribed with the date and the words "Home of their Own."
Feagin expressed pride for having been a part of the Achievement Center's accomplishments and service to people with special needs.
Mlcak has worked at the center for nine years and for the last five has worked closely with Serie as her assistant director. Serie said that she was not at all apprehensive about leaving ACT in his capable hands.