ACT Special Arts Festival continues to grow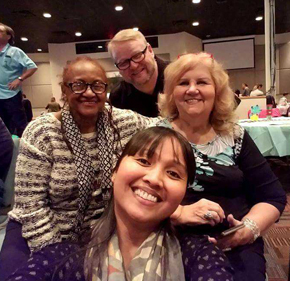 Saturday, March 2 was an exciting day for the students and staff of the Achievement Center of Texas as they hosted their annual Special Arts Festival at Spring Creek Church.
Executive Director Andrew Mlcak said that 700-800 visitors came through from 9:30 a.m. – 2 p.m.
The center has a new dance crew that performed three numbers and the director used the word "amazing" to describe their performance. The center's singing group, Unique Inspirations, also performed three great songs.
Recently retired Executive Director Marilynne Serie planned the event and was able to get more than 20 performers to share their talent. Kadie Lynn, who made it to the semi-finals on the popular television show "America's Got Talent," gave a great performance.
Lisa Smith, a young lady with Down Syndrome, shared her exquisite talent for signing to music.
Artist Lucas Cervellini was there to share his work and also brought fellow artists who shared theirs as well.
John Bramblitt, Serie's son-in-law, creates beautiful art without sight and always attends the festival to demonstrate how he expresses himself through painting.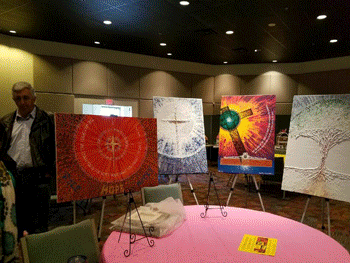 There were tables where participants could create art to take home, as well as information tables.  Altrusa International of Garland provided free books to attendees.
About ACT: The Achievement Center of Texas is a licensed non-profit day care and day habilitation center for children and adults with special needs. Every effort is made to offer families their choices in services and to support those choices wherever possible. In providing a wide range of services in the least restrictive environment, students at the Achievement Center can grow and develop physically, intellectually, emotionally and socially working toward greater independence and more satisfying way of life. The Arts Exploration program developed in 2006 gives students opportunities to discover hidden talents, develop those talents and exhibit, perform or just explore their own creativity to enhance the quality of their lives through the arts.