Atlantis Silver and Giftware offers Turkish handmade items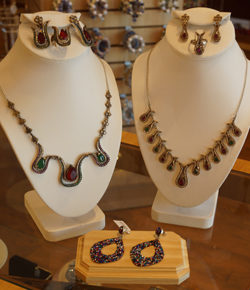 Owned by Istanbul Grand Bazaar and managed by Fatih Sahin, Atlantis Silver and Giftware opened near the end of 2016 at Firewheel Town Center. Istanbul Grand Bazaar, Inc. is a family business that imports goods and products from Turkey.
Sahin is happy with the selection of Garland, as well as Firewheel Town Center, for the store.
"This is a diverse community and there is a vibrant economy here," he said. "Firewheel Town Center is a good mall and Garland offers a unique and diverse customer base."
Filled with unique items, Atlantis Silver and Giftware features sterling silver jewelry with semi-precious stones. There are rings, earrings, necklaces, bangles and more from which to choose, and according to Sahin, shoppers will not find the pieces in other shops around town. Jewelry is made in Turkey with gemstones that come from different parts of the world.
The shop also features handmade mosaic lamps, also made in Turkey, which range from small table lamps to wall sconces to large chandeliers.
Additionally, they offer handmade, Turkish ceramic plates and bowls, coasters and tiles. These items can be used to brighten up the décor in any home or serve as unique wedding shower or housewarming gifts.
The store also offers a variety of other items including handmade rugs, table runners, pillow covers, linens, wall art, kitchenware, handbags and evil eye ornaments.
Sahin strives to provide a unique shopping experience to customers.
"I offer only high-quality products and I want my customers to have something they can connect with. I tell them that if they don't feel right about, for example, a piece of jewelry, don't buy it," he said. "You need to be able to connect with it because you are going to wear it. It's going to be like a part of you."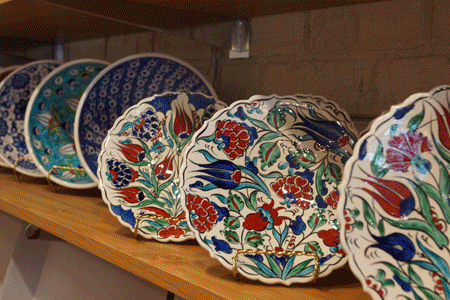 He added that everyone finds something they can relate to at Atlantis Silver and Giftware and that is what motivates him to continue to ensure that clients can find that perfect, unique item.
Sahin explained that Atlantis is a lost civilization in the depths of water that some people believe is in the Atlantic Ocean and some believe is in the Mediterranean Sea.
"It was at the pinnacle of its time, it was a great civilization but now no one knows about it. To associate my products with a place no one has ever seen before is a blank page so I can fill it with anything," he said. "What better way to fill it than with lamps, jewelry and other items that people have never seen before. Come and discover Atlantis because you never know what kind of lost treasures you'll find."
He added that Atlantis is somewhere in your imagination that you can discover and explore and do anything you want with it.
"If you want to discover with me, walk through with me and explore with me, you're more than welcome to do that," Sahin said.
Atlantis Silver and Giftware is located at 250 Cedar Sage Drive in Garland.
Follow them on Facebook at https://m.facebook.com/atlantissilvergiftware/ and Instagram @atlantissilvergiftware.
Photos by Fatih Sahin.