Atrium earns excellence award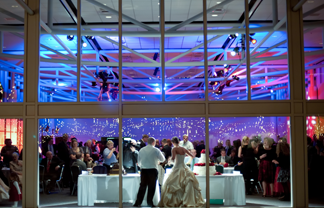 WeddingWire, the nation's leading online wedding marketplace, has recognized The Atrium at the Granville Arts Center with the WeddingWire Rated™ Silver badge for excellence in wedding venues.
The esteemed WeddingWire Rated™ program recognizes wedding professionals who have received positive newlywed reviews of their business on WeddingWire. The WeddingWire Rated™ program has five levels that wedding professionals can attain based on the number of reviews they receive (Blue, Bronze, Silver, Gold and Black). The WeddingWire Rated™ Silver badge is reached when a business has received twenty five or more wedding reviews.
The Atrium at the Granville Arts Center's advancement to the Rated™ Silver Level is an impressive milestone, illustrating a commitment to providing clients with a positive experience. As the world's largest wedding review site with more than one million reviews, WeddingWire is comprised of more than 200,000 wedding professionals throughout the United States and Canada.
"The Atrium's advancement to the Silver Level is an achievement worth celebrating, especially given the growing importance of online reviews," said Sonny Ganguly, Chief Marketing Officer, WeddingWire.  "We are excited to honor them for this powerful milestone."
"The Atrium is thrilled to have received the WeddingWire Rated™ Silver badge for Wedding Venue Category in the Dallas/Fort Worth metroplex," said Mark Wilson, event director at the Atrium. "It is our chief objective to provide positive experiences for our clients, and we would like to thank them for taking the time to post reviews on WeddingWire. Each review allows potential clients to see that we are committed to consistently providing excellent service. We look forward to obtaining the next Rated™ level in the future with additional reviews."
WeddingWire has also recognized The Atrium with its Bride's Choice Award in 2010, 2011 and 2013, and the Couple's Choice Award in 2014 and 2015.
For more information about The Atrium at the Granville Arts Center, visit GarlandArts.com.