Atrium earns Venue of the Year award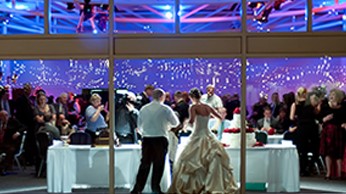 The Atrium at the Granville Arts Center continues to be a standout for wedding planners. Earlier this month, the Dallas/Fort Worth Chapter of the Association of Wedding Professionals announced The Atrium as the recipient of its prestigious Venue of the Year award. Ten venues were nominated. The Atrium received this honor in 2008 and again in 2012.
Atrium Event Director Mark Wilson was thrilled to accept this award on behalf of The Atrium, which first opened its doors in 2003.
"It is because of the great staff and team effort at The Atrium that we have continued to exceed the client's expectations year after year," he said. "We are so proud to be a part of the City of Garland and to bring thousands of new visitors to Downtown Garland year after year."
For more information about The Atrium at the Granville Arts Center, visit GarlandArts.com or call 972-205-3981.
About the Atrium: The Atrium features an elegant, 6,300-square-foot, open contemporary ballroom with dramatic 20-foot floor to ceiling windows on two sides. An in-house lighting system transforms events with architectural and theatrical lighting effects. The spacious 3,100-square-foot lobby is ideal for cocktail receptions and other pre-event functions. The Atrium received the "Bride's Choice Award" from Wedding-Wire.com in 2010, 2011, 2013, 2014, and in 2015 and 2016, received the "Couples' Choice Award!" (Information from http://www.garlandarts.com/gov/eg/arts/atrium/default.asp)
Information and photo provided by city of Garland.