Bank robbery suspect identified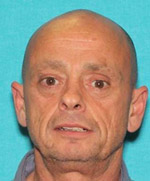 The man who robbed the Capitol One Bank in Garland June 9 has been identified as 52-year-old Gregory Wayne Davidson.  Police believe he is the same man who robbed a bank earlier today in Dallas. Police and FBI are asking for the public's help in locating Davidson who is believed to be staying in local area motels.
Crime Stoppers will pay up to $5,000 for information leading to the arrest of Gregory Wayne Davidson.  Contact Garland Crime Stoppers at 972-272-8477 or online at www.garlandcrimestoppers.org.