Baylor Scott & White Medical Center – Garland for sale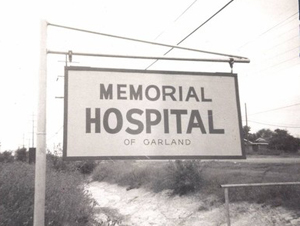 Currently known as Baylor Scott & White Medical Center – Garland, the hospital located near the intersection of Walnut Street and Shiloh Road has served Garland under three different names since 1964. The healthcare facility recently announced that they have begun a search for a buyer to purchase and assume the facility's operations.
The hospital opened 53 years ago as Memorial Hospital, named in memory of World War II veterans. It began as a 100-bed facility and has gone through several transformations and additions. The first was in 1970 when patient capacity was raised to 176. There were also add-ons in 1972, 1980 and 1988.
The hospital became part of the Baylor Healthcare System in 1991 and was renamed Baylor Medical Center at Garland. In 2004, the Don and Ruth Buchholz Pavilion added more than 100,000 square feet to the facility.
The current name, Baylor Scott & White Medical Center – Garland, was assigned in 2015 when the Baylor Healthcare System merged with Scott & White Healthcare.
A recent announcement on the hospital's website revealed that the hospital is for sale.
The announcement said that they are "committed to finding a new owner that will not only provide excellent care to the Garland community, but one that will also value our employees, the physicians on our medical staff and our volunteers."
Robin Kraase, Baylor Scott & White Medical Center – Garland's manager of Marketing and Public Relations, said that the hospital had experienced financial challenges for many years. She added that the facility had tried to be more efficient and better fit the community, but the financial problems continued.
Kraase was asked the following questions by email:
You mentioned…that the hospital has had financial challenges for many years. Can you tell me what sets the Garland location apart from others that are not having financial challenges?
When you say "many years," about how long do you mean?
What happens if a buyer cannot be found? This is a frightening prospect for many, since Garland has no other hospital.
Her answer is below:
"First and foremost, Baylor Scott & White is committed to making the best decision for the hospital and those we serve. As I mentioned on the phone, the process is underway to find a new owner that will provide excellent care to the community and value our employees and the physicians on our medical staff. Like other hospitals and health systems across the country, we are always evaluating our strategies to best meet the needs of the patients and communities we serve.
As you know, the health care system is going through a period of change, around the country and right here in our area. Please be assured that, as we move through this process, we are working to preserve what's best for our hospital, colleagues, physicians and patients. As of today, it's still business as usual at Baylor Scott & White Medical Center – Garland."
The follow-up questions below were sent to Kraase May 16. She forwarded the questions to Julie Smith, director of Media Relations, Baylor Scott & White Health.
I was told that you are negotiating with a couple of potential buyers – is that true?
What is the incentive for anyone to buy the hospital? If Baylor has had what you've called "financial challenges," won't anyone else who buys it have those same challenges?
I'd still like to know what happens if you are unable to reach a deal with someone to buy the hospital. Will you close and leave the city without a hospital?
Smith's answers, received May 19, are below:
"As you know, we're still in the early stages of this process and no definitive decisions have been made; however, we are focused on identifying a new owner.  As a matter of practice, this is conducted as a confidential process and we don't disclose the details of any discussions with potential buyers or hospital-specific financial information.
Our priority remains serving the healthcare needs of our community and identifying a new owner that will further our legacy of providing high-quality care to Garland and valuing our employees and medical staff."
The questions remain unanswered, most importantly with no denial or confirmation whether Garland, a city with more than 225,000 residents, could be left with no hospital.