Blue Ivey School celebrates anniversary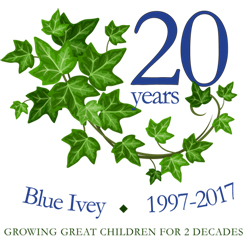 When Alicia Larsen thinks of the 20 years she and husband, Brad, have owned Blue Ivey School, she can't help but smile. The early days of building and opening the school harken images of her young daughter playing in the hallways while younger brother slept in his infant carrier nearby.
High-quality child care for children age 12-months through kindergarten is just the beginning of what you will find at this beautiful, 10,800-square-foot facility where the staff is dedicated to child-centered education based on discovery and exploration. Great nutrition is also a must – the school has its own chef and is committed to providing fresh, preservative-free, nutrient-rich meals and snacks.
After-school care is available for Garland ISD K-5th grade students. An extensive weekly themed summer program, with frequent visits to the Larsen's Wills Point Rocking L Ranch is also available. Always focused on offering a high-value, all-inclusive experience for their clients, the Larsens built Blue Ivey with health and happiness in mind. Brad Larsen worked diligently to make the building as green as possible, using all low-VOC paints, cotton insulation and water-based glues. Every piece of wood from doors to cabinets is solid wood to prevent unhealthy formaldehyde found in pressboard from leaking into the school environment.
Developing the whole-child – educationally, emotionally and socially – is a hallmark of the school. Its experienced, dedicated staff includes long-time staff members like Kathey Round – a pre-kindergarten teacher who joined the school's staff 6-months after it opened.
While Blue Ivey celebrates its 20 year anniversary, its sister school in Rockwall just ushered in its 10th year of growing independent, curious learners. The Larsen's legacy in early child education is strong. Brad Larsen's mother, Pauline Logan, is a pioneer in the development of early childhood education in Texas, opening her first preschool, Happiness House in Dallas, in 1965.
For more information about the school, email info@BlueIveySchool.com