Breitling Youth Theater teaches acting skills and more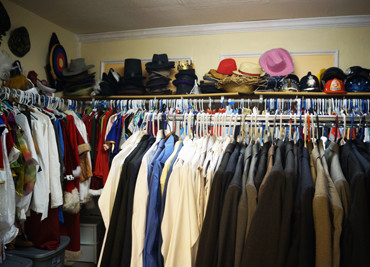 Gaining acting skills is not the only benefit for children that participate in classes and live performances at Breitling Youth Theater. Some children have made the transformation from being so shy that they constantly looked at the floor to performing live on the stage of the Plaza Theater.
"Their speaking skills improve as well," Annie Breitling, the theater's director and producer said. "They might have barely spoken over a whisper when they came here, but now they speak clearly, loudly and confidently."
There is a spot for every child in the theater's productions. Some come in with experience and talent and others have never acted and are shy or awkward. They all get a part in the production. Kids come from nearby cities including Allen, Rockwall, Murphy and Rowlett to participate.
Enrollment numbers vary depending on the time of year, but there are currently 100 kids in the program and scholarships are available for those whose parents cannot pay.
"Not everybody can afford it and we want to include everybody," Breitling said. "We do not want any kid to not participate because of the cost."
The organization operates on tuition fees and ticket sales and making ends meet is often a struggle. In addition to scholarships, Breitling also provides items such as leotards or tights when parents do not provide them.
Even though the operation of the theater is expensive, Breitling believes strongly in its importance. It helps prepare them for life and they learn about working toward a goal and accomplishing it. It boosts self-esteem and self-confidence and the children form long time friendships.
"Most importantly, the kids find a place where they feel they fit in," Breitling said. "Some might not fit in anywhere else, but they really find a family with us and a group that they can belong to."
Breitling's commitment to kids and community is shown by her generosity. More than $50,000 worth of tuition and $8,000 in free tickets were given away from 2010-2013.
Breitling, who acted in high school and took some college classes in film and theater, designs the sets in addition to her producer and director duties. She started the youth theater in 2010.
Jerry Walker builds sets and maintains the building. Alice Frederick is the wardrobe designer and has also done some writing. Debbie Clements is the wardrobe manager.
Brittanie Scontrino, 18, is an actor and serves as technical director, creates the playbills and often acts as stage manager.
Actors Andrew, 17, and Samuel 14, enjoy being involved in the theater.
"I've learned to be more confident and socialize more," Andrew said.
Samuel wants to be involved in the movie industry and particularly enjoys the film classes.
Hailey, who is 8-years-old, said that her involvement encourages her to do other things and she hopes to one day be a movie actor.
Summer, 6, has acted in several shows and her favorite role has been that of a cheerleader in "Around the World in 80 Days."
The organization recently achieved nonprofit status from the IRS and donations are now tax deductible.
Upcoming shows include "Sound of Music," "Peter Pan," "Cinderella" and "Mary Poppins."
The theater is located at 303 Main Street in downtown Garland. Visit www.actingforchildren.org for