Cameroon soccer builds teamwork, house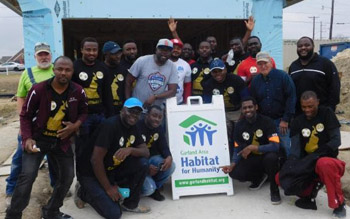 Sometimes it takes a village to build a home – and sometimes it takes a soccer team! Garland Area Habitat for Humanity is always looking for capable volunteers – but we got a wonderful surprise when more than a dozen men jumped in recently to help from the Cameroon Dallas Football Club (CAMDAL) – "football" being the more-European term for soccer.
CAMDAL is aimed at empowering the Cameroonian youths residing in the Dallas-Fort Worth area and building teamwork through healthy competition and camaraderie. That spirit of teamwork was especially evident as these young men banded together, swinging hammers to help build a home for a needy family.
Neighbors who were also from Cameroon came by each day with snacks and drinks to be sure that the fellows did not run out of energy.
If you and your team, family or company would like to help build a house or host a fundraiser, please visit our website to find out how you can get involved.
About GAHFH: Founded in 1993, Garland Area Habitat for Humanity is part of a global, nonprofit housing organization, Habitat for Humanity International. Operating on Christian principles, GAHFH shares the mission of Habitat International, seeking to put God's love into action by building homes, communities and hope. GAHFH is dedicated to eliminating substandard housing in Garland, Rowlett, Sachse and worldwide through constructing, rehabilitating and preserving homes; by advocating for fair and just housing policies; and by providing training and access to resources to help families improve their shelter conditions.  Habitat for Humanity was founded on the conviction that every man, woman and child should have a simple, durable place to live in dignity and safety, and that decent shelter in decent communities should be a matter of conscience and action for all.