Carver Elementary students create art, donate profits to St. Jude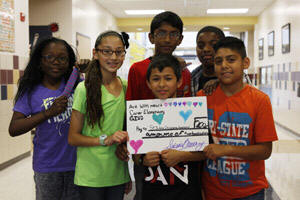 Creating their own project-based learning lesson, six Carver Elementary School fifth-graders recently learned how to manage a small nonprofit and pay it forward. The entrepreneurial group created a club called Art with Heart, which sold original artworks, bookmarks and bracelets to benefit St. Jude Children's Research Hospital.
Originally conceived by Phillip Benjamin, Jordan Gonzalez, Modupe Karimi, Daniel Ruiz, Clarissa Salinas and Damerian Wigenton as a for-profit business, the idea to launch a nonprofit began with the advice of fifth-grade teacher Sabina Bawany.
"When they came to me and told me that they wanted to create a business, I told them they might want to start a fundraiser," Bawany said. "I believe there are some policies in place regarding soliciting, so from there, it just took off. I have been very blessed to have kids who are really motivated and do a great job."
Once they settled on a mission and game plan, the students got to work, meeting three times a week to craft their original art pieces—which were inspired by Carver's first-ever art class.
"I was very proud they were using skills they learned in my class and taking them and doing good things with them," said art teacher Christy Dickerson. "They are not only learning valuable lessons of craftsmanship, but they are also learning about being good citizens and stewards."
After a three-month campaign of selling $1 yarn bracelets, $2 yarn bookmarks and $1-3 original drawings three times a week for 45 minutes, the bunch raised $200. In June, the group officially mailed that check to St. Jude, bringing this charitable project to a close.
"I think it is a good thing that we donated the money because the children really need it," said Art for Heart member Damerian Wigenton. "I do not think we should get a prize for this. Our prize is that we just feel good about doing this."
But the group gained much more than emotional gratification from their philanthropic endeavor.
"This project not only taught them empathy, but it also taught them communication, marketing, math and crafting skills. It was a multifaceted project," Bawany explained. "The best thing is that through this project, they got to see the application in a real-world scenario."
And though the fifth-graders are moving on to middle school come fall, they hope they established a new tradition that will thrive at Carver and ultimately inspire other campuses districtwide.