Casey Gerald inspires, motivates at Dallas CASA luncheon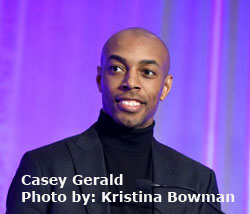 Dallas native Casey Gerald told attendees at the 10th Cherish the Children luncheon at The Fairmont Dallas April 5 that when his own childhood hit hard times, the community intervened.
"Just before I gave up, people stepped in and rolled up their sleeves and asked how they could help," the Oak Cliff native and TED phenomenon said. "You may never know when you have stood in the spiritual gap with a child on the brink."
Now a businessman and thinker, Casey at age 12 was struggling as his mother left the family and his father battled drug addiction. Casey found his own footing in football and academics, making his way from South Oak Cliff High School to Yale University and Harvard Business School. But instead of holding him up as an example of triumph over diversity, we need to work together to end the root causes of child abuse and neglect, he said.
"No degree makes up for being unwanted. No amount of money can make you forget hunger pangs. Meeting no president makes up for not having your mother," he said. "Not a single kid leaves behind those wounds of childhood."
Hosted by Dallas CASA Children's Council, the luncheon raised funds for the abused and neglected children served by Dallas CASA. A sold-out crowd of more than 400 attended the luncheon, which honored Dallas CASA's founding organization the National Council of Jewish Women Greater Dallas Section with the Caroline Rose Hunt Cherish the Children Award. The award recognizes an individual or organization for outstanding contributions helping children who have been removed from home for abuse or severe neglect. Now in its 10th year, the Cherish the Children Award was renamed to honor Mrs. Hunt, a longtime supporter of Dallas CASA and a lifetime member of the Dallas CASA Children's Council.
"CASA is about a group of mothers who could not stand to see children mistreated," Dallas CASA board member Mark Berg said. "Dallas CASA is now within reach of achieving what was unthinkable a few years ago – serving every child in need. We've all stood on the shoulders of those dedicated mothers."
Berg's mother, Rose Marion Berg, was a member of NCJW and one of the founders of Dallas CASA.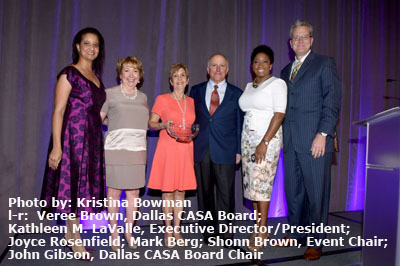 Shonn Brown was chair for the luncheon, which included a silent auction of unique and original children's furniture, created by local artists and designers. All proceeds raised by the auction benefited Dallas CASA. Thank you to the retailers and manufacturers who designed handmade children's chairs and furniture to be auctioned, as well as the many sponsors and underwriters.
About Dallas CASA: All children have the right to be safe. Dallas CASA (Court Appointed Special Advocates) is a nonprofit organization that trains and supervises volunteers to advocate for the best interests of abused and neglected Dallas County children living in protective care. Last year, more than 4,600 Dallas-area children were in the protective care of the state because it wasn't safe for them at home. Sadly, two out of five of these children did not have CASA volunteer advocates to speak for them. CASA volunteers gather information to help judges decide where these children can safely and permanently live. For many abused children a CASA volunteer is the only constant adult during a frightening, uncertain time. CASA volunteers can make an immediate and critical difference in the lives of abused children. To learn more about advocating for abused children, call 214-827-8961 or visit dallascasa.org.