Holiday season time to cease the grease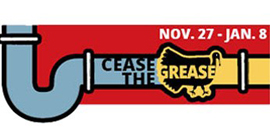 The city of Garland is participating in the regional Holiday Grease Roundup, an annual campaign that addresses fats, oils and grease in the wastewater system. This program asks Garland residents to recycle their holiday cooking grease instead of pouring it down the drain.
Even small amounts of fats, grease and oil can cause huge problems for the underground pipes that take wastewater away from homes and businesses. The cumulative effect of all that grease and oil during the holidays can cause sewer pipes to clog and overflow, and no one wants to deal with plumbing problems, especially during the holidays.
You can recycle your grease and oil for free at Garland's Recycling Drop-Off Center, 1426 Commerce St. Open Monday through Friday 8 a.m. to 5 p.m. and on Saturdays from 8 a.m. to 3 p.m.
The Holiday Grease Roundup kicks off Nov. 27 and ends Jan. 8. The grease and oil collected are converted into biofuel for use by Dallas Water Utilities at one of their wastewater treatment plants.
How to transfer cooking oil and grease
Put your used cooking oil in a sealed plastic container with a screw-top lid (maybe even the same container the oil came in).
Put used grease in a container with a plastic lid, like an old coffee can.
You may want to transfer your containers in a cardboard box or plastic bag so you don't have to worry about any leaks.
For more information, visit GarlandWater.com.
Information provided by city of Garland and www.ceasethegreasentx.com.