Celebrate Dr. Martin Luther King, Jr.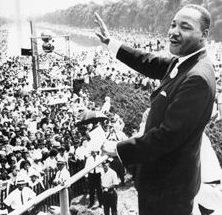 Martin Luther King, Jr. was born Jan. 15, 1929, to pastor Martin Luther King, Sr. and Alberta Williams King. He attended segregated public schools until the age of 15 when he was accepted into Morehouse College. Upon his 1948 graduation from Morehouse, King went to Pennsylvania to attend Crozer Theological Seminary and earned a Bachelor of Divinity degree.
King then went to Boston University and earned his doctorate in 1953. In Boston he met Coretta Scott who was attending the New England Conservatory of Music. The couple married in 1953 and made their home in Montgomery, Alabama. They had four children.
King becomes civil rights leader
King became the minister at Dexter Avenue Baptist Church in Montgomery where racial tension and discrimination were prevalent. At the end of 1955, the secretary of the National Association for the Advancement of Colored People, Rosa Parks, made a decision to shine a light on the mistreatment. She was arrested when she refused to give up her bus seat to a white person. Her arrest prompted activists to organize a bus boycott that lasted for more than a year. The activists chose King as their leader.
King became a target of white supremacists as the civil rights movement progressed but he was not deterred. He continued to fight for equality.
King and other activists founded the Southern Christian Leadership Conference in 1957. The group was dedicated to gaining equality for African-Americans through nonviolent methods and their motto was "Not one hair of one head of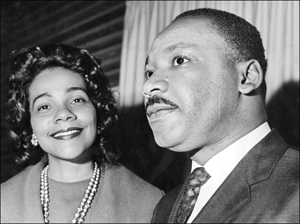 one person should be harmed."
King traveled extensively as  president of the SCLC and he addressed audiences about equality and civil rights. But, he was deeply bothered by some of activists' use of violence and advocated bringing about change through nonviolent actions only.
He moved his family to Atlanta in 1960 where he co-pastored Ebenezer Baptist Church with his father. King also continued his association with the SCLC and participated in civil rights protests throughout the 1960s. He was arrested in a Birmingham protest and while in jail wrote the "Letter from Birmingham Jail." King addressed the letter to white clergymen who criticized the group's tactics that included boycotts, sit-ins and marches.
Helps organize March on Washington
The civil rights leader then helped organize the March on Washington which was one of the most important events of the movement. His famous "I Have a Dream" speech was delivered during this event.
In the speech, King shared his hope that "this nation will rise up and live out the true meaning of its creed: 'We hold these truths to be self-evident that all men are created equal.'"
He was awarded the Nobel Peace Prize in 1964. In addition, he was named "Man of the Year" by Time magazine that same year.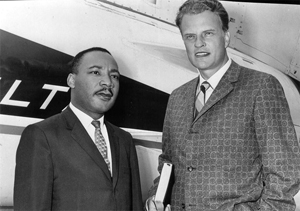 Many Americans were sickened by the brutality, shown on national newscasts, of segregationists toward peaceful demonstrators in Selma, Alabama in 1965. The demonstrators were simply seeking the African-Americans' right to vote. Numerous individuals joined the Selma to Montgomery march led by King as a result of the horrific violence they had seen on television.
The Voting Rights Act was passed a few months later and guaranteed African-Americans the right to vote.
King's desire for equality extended to economically disadvantaged people of all colors. Consequently, he, along with the SCLC, founded the Poor People's Campaign to call attention to the plight of the poor population.
Loss of a leader
He was assassinated in April 1968, in Memphis, by James Earl Ray. He was there to support a sanitation workers' strike.
President Lyndon B. Johnson announced a national day of mourning. President Ronald Regan signed a bill in 1983 creating a federal holiday in King's honor. It is observed on the third Monday of January.
Source: Martin Luther King Jr. Biography.com
"I have a dream that my four children will one day live in a nation where they will not be judged by the color of their skin but by the content of their character."  — Martin Luther King, Jr. / "I Have a Dream" speech, Aug. 28, 1963.
Click here to listen to the "I Have a Dream" speech in its entirety.