Charles Edward Tawwater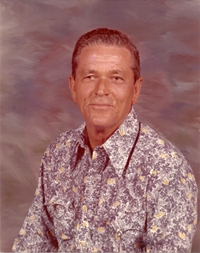 February 4, 1931 – May 30, 2015
 
Charles Edward Tawwater, 84, was born February 4, 1931 in El Paso, Texas to Clifford Jesse and Lola (Morrison) Tawwater and went to be with our Lord May 30, 2015. Charles is survived by his son Charles Eugene and wife Cindy Tawwater and daughters Mary Ann and husband Joe Zachary and Patsy Kay and husband Larry (Billy) Emerson; sister Frances Short; grandchildren Chuck and Gary Tawwater, Jason Zachary and Shanna Scott; and great-grandchildren Tyler and Saidee Anderson, Hanna, Cameron, Ethan and Andrew Tawwater and Brennan Scott; and numerous nephews and nieces.
 
He was preceded in death by wife Patsy Ruth Worthy Tawwater; parents Clifford Jesse Tawwater and Lola Wagoner and step-father Nathan (Bo) Wagoner; brothers Ray Morrison, Robert, Clifford, James (Dink) and Paul Tawwater; sister Mary Everett Fuller; and grandson Bryan Zachary. Charles was owner of Tawwater Wrecking in Sachse. He was a member of the Masonic Lodge 441.
 
The family will be receiving visitors Tuesday, June 2, 2015, from 6 p.m. to 8 p.m. Funeral services will be Wednesday, June 3, 2015, at 1 p.m. at Williams Funeral Home with graveside services following.
 
Charles will be greatly missed by all those that love and knew him and was sometimes known as Dad, Pop, Papa, Pawzee, Charlie and Uncle Charlie depending on the relationship you had with him. He had a beautiful smile and unforgettable laugh and personality. Though we are being told by some that they are sorry for our loss, we know we will never lose him because he will live in our hearts forever. Though death leaves a heartache no one can heal, knowing Charles's love leaves a memory no one can take from us.