Church at the Square gets out in community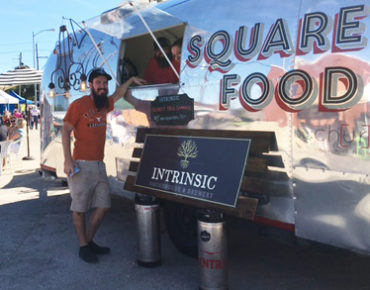 Jake Tubbs, pastor of Church at the Square, said that it is a church that is all about people.
"We are about making much of Jesus in all we do," he said.
One of the ways the church members accomplish that is by providing meals to economically disadvantaged people in Garland. Tubbs had purchased an Air Stream not knowing exactly how it would be used, then later decided that it would be perfect as a food truck. He realized that he and other church volunteers could take the truck into some of Garland's apartment complexes and serve free meals.
"I believe that as children of God, we are called to engage our cities and I think we can have really difficult conversations that are a lot easier to have over food," Tubbs said. "Fruitful conversations can be shared over a meal together without hurrying.
Tubbs believes that the church is people, not buildings, and he wanted this Southern Baptist Church to make a difference in the community.
The congregation met at the Lifewell Church on Sixth Street in downtown Garland for about a year and recently moved to Texas Skatium on Rowlett Road.
"I like the idea of not having a brick and mortar location," Tubbs said. "It really forces us to actually do the things that we are about," Tubbs said.
For example when have Vacation Bible Schools, they go into apartment complexes that they serve and hold it there instead of bringing the kids into the church.
"We are very much about being out in the community," he said. "It puts us in a good position to get out and share with people."
He and several volunteers take the food truck to lower income apartment complexes and serve dinner at least once, sometimes twice, each month. It is, however often hard for a church to fund that. They also often take bounce houses, movies, crafts and games for the kids
"When churches are newer, finances are unpredictable," Tubbs said. "So to be able to fully fund local missions the way we want to do, we have to raise money."
One of the ways Church at the Square members raise funds is by taking the food truck food truck out to events, and on Thursdays, they set up in front of Intrinsic Brewhouse & BBQ. They sell food and desserts and all the proceeds go back into the church for them to use for local missions.
He gets volunteers to help on the truck and others to visit with the crowd to explain what Church at the Square is doing.
"When I read the scriptures, I see that this is how the early church operated," Tubbs said. "We just bring food and conversation into an area that needs it."