City to present neighborhood awards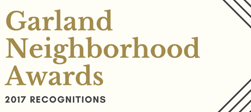 Great neighborhoods take work, and the city of Garland, Office of Neighborhood Vitality would like to recognize those who make extraordinary efforts to enhance, revitalize or invest in their neighborhoods. The awards include:
Garland Neighborhood of the Year
Neighborhood Publication of the Year
Garland Neighbors are also asked to nominate:
Who's Who in Garland Neighborhoods
Award descriptions and application/nomination forms can be accessed at GarlandNeighborhoods.org, or contact the Office of Neighborhood Vitality at Neighborhoods@GarlandTX.gov or 972-205-2451. All applications/nominations must be submitted by Oct. 6.
Winners of the Garland Neighborhood Awards will also have the chance to receive national recognition through Neighborhoods, USA, a national nonprofit committed to building and strengthening neighborhood organizations.
Award winners will be announced at the Garland Pre-Summit Mixer Friday, Nov. 3, from 6 to 8 p.m. at The Atrium, Garland. Click here to register.