City committed to redevelopment plan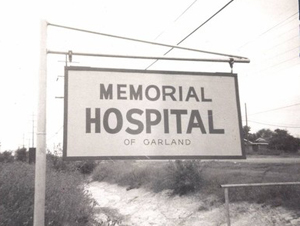 The city of Garland is committed to its revitalization plans in the area surrounding the current Baylor Medical Center at Garland facility, despite last week's closure announcement.
During a City Council retreat Friday, Dec. 15, the council unanimously reaffirmed their support for creating a Tax Increment Financing (TIF) zone in that area. TIFs are utilized to encourage economic development and reinvestment. When redevelopment occurs in a TIF, property values typically increase. The incremental growth in property taxes can be set aside for reinvestment in the zone by way of public improvement projects designed to enhance the zone for additional new investment and development.
In the coming months, City staff will initiate the process to create a TIRZ (Tax Increment Financing Reinvestment Zone). That process will include a public hearing and consideration of an ordinance to formalize the creation of the zone. Typically, TIFs are in place for about 20 years.
"While the Baylor Garland closure is disappointing, it also presents a redevelopment opportunity for Garland," said District 8 City Council Member Robert J. Smith, who represents the proposed TIFZ area. "Moving forward with this TIF supports our commitment to attract and retain high-quality medical services in our community. We are all focused on this area and are ready to move forward with a strategy that will bring new opportunities to this part of Garland, and ultimately benefit our residents."
The Garland City Council in 2013 adopted a revitalization strategy for the Shiloh/Walnut area as an integrated, mixed-use health science district. Economic development efforts going forward will embrace opportunities that might come with adjustments to the economic marketplace in that zone.
On Thursday, Dec. 14, Baylor Scott & White announced plans to close the Garland facility on Feb. 28, 2018. For more information about the hospital closure, visit bswhealth.com.