City Council work session, regular meeting: January 20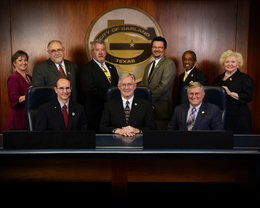 Update: Downtown redevelopment — Becky King, director of organizational development and Laura Staley, downtown redevelopment program manager updated the City Council and Mayor Douglas Athas on the progress of the project.
"A lot has been accomplished in 2014 and what was once only vision is now becoming reality," King said.
A few of the 2014 accomplishments include:
· Landmark Depot Museum moved and reopened.
· Sixth Street crossing of Walnut Street to the Richland College Campus
· Pace House transferred to private ownership and moved to Travis College Hill historic district
· Several significant infrastructure projects completed
· Significant progress on southwest quadrant of the Heritage Crossing Corridor and design 90 percent complete on remaining quadrants
· City hall, City Center Apartments and parking garage construction started
Accomplishments to watch for in 2015 include:
· First phase of City Center Apartments and parking garage to open in May
· Completion of additional infrastructure projects
· Completion of railcar exterior restoration in first quarter
· Lyles House relocation to Heritage Crossing in second quarter
· Completion of city hall renovations in third quarter
· Completion of Arts Plaza in third quarter
· Addition of improved streetscapes, pocket parks and green space
· Updated lighting at library
City website enhancements – Changes and enhancements are being made to the city of Garland website to make it friendlier for a variety of devices including tablets and smartphones.
A companion website, called Engage Garland, through which citizens will be able to share ideas, photos and more, is being developed.
In addition, an application called e-assist that will allow citizens to send action items to a specific city department, access city news, report power outages, report graffiti, etc.
City secretary appointed — Rene Dowl was appointed to the position of Garland city secretary.
Variance request: Alcohol sales — Robi Minies and Tracy Spielbauer, owners of Wing City, located at 1456 Belt Line Road, appeared before council in a public hearing to request a variance in the ordinance that deals with the sale of alcohol.
The ordinance states that alcohol may not be sold at a location that is not at least 300 feet away from churches, schools and public hospitals. The variance would allow Wing City to sell beer and wine even though they are within 150 feet of a church.
The pastor of the church supports the variance and submitted a letter stating his position.
Minies assured council that they will do everything possible to see that the rules are followed. He said that he has been in business for almost two years and that the business is growing and that they participate in the community.
During discussion, one Council Member opposed the variance.
"I have some convictions against serving alcohol. I'm going to personally be voting against it…But I'm glad to hear that you're doing well and that the business is growing," Council Member Jim Cahill said.
The vote was 7-2 in favor of the variance with Cahill and Council Member Billy Mack Williams voting against.