City manager sees bright future for Garland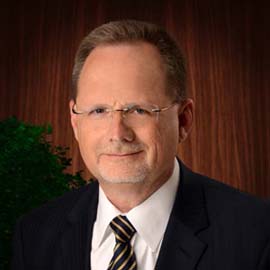 Bryan Bradford has now had time to settle into his new role as Garland's city manager after a tough first month on the job. The city experienced several tragedies — the terrorist attack at the Curtis Culwell Center, the loss of police dispatcher Crystal Nuncio, the loss of retired Garland police officer David Tapely and his wife Brenda and devastating floods — during his first few weeks. He said that he felt like he gained 10 years' experience in four weeks.
He knew that one of Garland's greatest strengths was the staff, but watching the way they stepped up and gave 110 percent during these incidents reinforced that knowledge.
"It really showed me again what I already knew," Bradford said. "We have very dedicated people who always step up. If that means working all night or on the weekend, they don't complain. They are dedicated to this community and there is no substitute for that."
Bradford added that in comparison with other area cities, Garland is modestly staffed and funded.
"We have fewer people doing more with a small amount of resources than probably any other city in the Metroplex," he said.
After 21 years with the city, where he has served in several capacities including budget director and assistant city manager, Bradford understands the workings of the organization. Additionally, he has a financial background and experience as an internal management consultant.
He earned a master's degree in public administration in 1994 and was the envy of his classmates because he landed a job in Garland.
"When I was getting out of graduate school, the place to get a job was Garland, Texas…because it was known for being such an innovative city," Bradford said. "I hit the jackpot."
He and his family fell in love with Garland.
"It has a hometown feel. Morals and values still matter here," he said.
Bradford is excited about positive changes in the city.
"This is by far the most exciting time in the 21 years I've worked here. It's a culmination of different things," he said. "One of the most exciting is that we've been planning for several years how to make this community more vibrant and we are now in the implementation stage of that. We're making things happen instead of being focused on planning."
He used downtown as an example.
"Downtown sets the tone for the whole community. It's a focal point in our community and to have all the great things happening in the heart of our community makes everyone feel good," Bradford said.
The city manager's three top priorities are:
Economic development. "Sufficient revenues are necessary to provide services to citizens. And, without economic development, the city could not provide amenities that make it marketable and desirable to families and businesses," Bradford said.
Cultivating desirable neighborhoods. "Much of Garland's housing stock is aging and we have a new team looking at successful neighborhood improvement programs throughout the country for revitalization ideas," he said.
Ensuring that Garland is prepared for the next 10 years. "Many key people who have kept the city running for the last 20-30 years will retire in the next few years and we have to figure out how to attract younger employees, make better use of our technology and improve processes," the city manager said.
The staff is also working to improve Garland's image which impacts economic development efforts.
"The image problem is real," Bradford said. "We can't ignore the fact that the wrong image is out there but when people come here, they realize that Garland is a gem. We have to find a way to communicate that."
He is confident that through the efforts of the capable city staff, engaged residents and the current city council that great things are in store.
"We have a very good city council," he said. "This council is extremely involved. Their hearts are in the right place and they love this community."
"It's a great time in Garland's history and I'm thrilled to be a part of it," Bradford said.