City moves rapidly to demolish Crossman Building, heirs bid farewell to site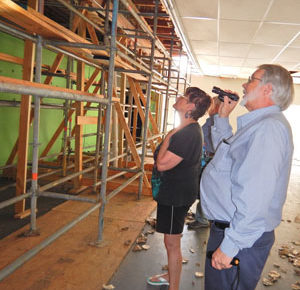 Within 48 hours of the city council's 7-1 vote to demolish the 100-year-old east side of the downtown square, city officials accompanied a Crossman descendant to identify mementoes the family requested before the building is razed.
Kay Crossman Turner requested to keep the antique safe that family members were unable to remove when the building was sold in 1998 and she asked for 16 of the vintage ceiling tiles and a small amount of exterior bricks.
The family owned the building for much of its existence. Turner's great-grandfather, George W. Crossman, began selling insurance on the east side of the square in 1890. The earliest part of the existing building was built in 1906. The insurance business was passed to Turner's grandfather, Curtis Crossman and his son, Curtis Crossman Jr.
The city's Robby Neill said that the lot is projected to be leveled by the third week in April at an estimated cost of $88,000.
At the end of the meeting, before the 10:50 p.m. vote, the majority of council indicated support for Louis Moore's recommendation that the family be given requested mementoes and that some permanent honor be bestowed on the Crossman family.
Construction of whatever is chosen to replace the building is estimated to occur in 2019. Until then, the area will be sodded.
Proponents of removing the building used terms including "eyesore" as they testified before council. Cary Hodson, owner of Intrinsic Smokehouse and Brewery, said he had canvassed downtown business owners and most favored removal. Additionally, from March 9-19, he obtained 479 petition signatures from Garlandites and people from other areas who supported demolition.
Mayor Douglas Athas cast the lone vote for preservation.
Athas had favored sending the project out for Requests for Proposal to acquire designs for creative reuse. But most of those who favored demolition said they wanted more open area with a green, family-oriented park space.
Preservation Architect Norman Alston testified that he had examined the building with a structural engineer and found it to be in "very restorable condition."
He said items that require attention are mostly carpentry and could be easily repaired and that approximately 8,500 of the 11,000 square feet, 90 percent, is from 1905-1919. He added that bricks, side walls, wood floors, roof deck and more are almost certainly original.
Alston said it's important to not "remove the opportunity for business" by tearing down potential retail units. He said some of the best downtowns, Plano, McKinney and Georgetown, have limited green space.
"It's not sound urban design to start removing viable components of downtown," Alston said.
He presented an estimate of $1.3 million for restoration.
Kerry Peavey, owner of Garland Furniture, said the sun glare from the building's bare, tan wall is a problem for his business. He added that the building prevents customers from seeing his business and the rest of the square.
Downtown investor Robert A. Smith showed a proposal of an open-air pavilion with a front designed to resemble the east side as it appeared in the early 20th century. He said placing the pavilion 60 feet back toward Fifth Street would gain 16,000 square feet of green space.
"This would give us a clean slate to work with (and) tip your hat to preservation," Smith said.
Moore said he wished council had had the opportunity through the RFP process to look at more designs such as Smith's and others that could creatively reuse the building while providing openness.
Council Member Anita Goebel moved and Council Member Lori Barnett Dodson seconded the motion to demolish. Council Members David Gibbons, B.J. Williams, Rich Aubin, Scott LeMay and Stephen Stanley concurred, with the mayor opposing. Council Member Jim Cahill was absent.
Athas said he was on the 2013 council that voted to pay $428,503 for the building.
"I didn't vote to bulldoze it and put in grass," he said.
Council declined 2-6 to adopt either proposed square design and asked the consultant to return with a design with the entire lot vacant.
The city has spent about $600,000 studying designs and plans in addition to the $500,000+ spent to purchase the Crossman Building and on its demolition.
A pending application to add the downtown square to the National Register of Historic Places should be approved in about three weeks. The Travis College Hill Historic District, a neighborhood of mostly Craftsman houses dating to 1913, is Garland's first site to be listed on the National Register.