Council, mayor debate participation in CNU 23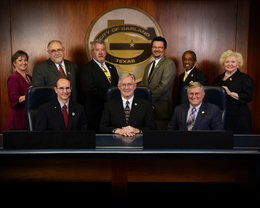 During the Feb. 16 work session, Garland City Council members and Mayor Douglas Athas discussed participation in and sponsorship of the Congress for the New Urbanism conference being held in Dallas in April.
Council Member Tim Campbell said that he did not know about the city's sponsorship of the event.
"First off I had no direct knowledge that we had any direct connection with the CNU 23. The second thing is I had no knowledge, and nobody I knew had any knowledge, that we were a sponsor of CNU 23," Campbell said.
"This organization does a lot of things that could be good….I praise them for that," Campbell said. "But there are also some issues with what they propose in that they border on converting the country to a complete socialist-driven state where the federal government directs everything."
He added that although the organization does some good work, it "borders on stomping on property rights of landowners and developers" and that the organization seems to be at the "far left of the extreme politically…"
He also said that they want the "federal government to invade right down to the very core of how you live, where you live, what kind of building you live in, what kind of streets you drive on…they want you to be able to walk and ride bicycles to work every day…"
Because of the beliefs described on their website, Campbell does not believe that Garland should back the organization.
Campbell also expressed displeasure that council had not been told of the city's sponsorship of the event.
Mayor Douglas Athas said that CNU does not want to tell people what to do or how to live and said that the organization is not at all what Campbell described.
"It was founded by architects looking to create better neighborhoods," he said.
Athas said that Legacy Town Center in Plano, downtown Plano, Frisco square and city hall, City Line/State Farm/Raytheon, Craig Ranch in McKinney and many other developments were built on CNU principles which include:
· Traditional neighborhood development (sustainable, walkable, mixed-use neighborhoods)
· Transit-oriented development
· Pedestrian-oriented
· Form-based codes
· Context sensitive solutions
Athas said that none of the developments mentioned above reflect what Campbell had described and when they say "highways to boulevards," it does not mean tearing down freeways and sprawl retrofit does not mean moving people into apartments.
"It's about taking old worn out shopping centers and finding new uses for them," he said.
Council Member Jim Cahill read aloud from www.cnu.org regarding "sprawl retrofitting."
"Although demographic demands are indicating a desire for more mixed-use, compact communities, sprawl is still the prevailing growth pattern in the U.S. There is growing evidence of sprawl's unsupportable environmental, social, and – due to its contribution to more sedentary lifestyles – medical costs. In addition, the prevalence of American sprawl has been a contributing factor to the current global financial crisis, triggered by the mortgage defaults of over-extended commuters. As the developing world continues to urbanize and follow similar sprawl patterns as seen in the U.S., there are disturbing implications for global challenges like climate change.
By repairing and retrofitting sprawling developments into quality human environments, CNU is setting an example for the developing world. CNU and its members have shown that it is possible to achieve successful sprawl retrofitting using a growing strategic toolkit of approaches."
"It's talking about urban sprawl, neighborhoods, developments that require cars to travel from one place to another," Cahill said.
He also said that the information does not mention retrofitting shopping centers.
"If you don't read the book [Sprawl Repair Manual by Galina Tachieva], you don't know what you're talking about," Athas said.
He added that it doesn't promote taking neighborhoods and turning them into apartments.
"It does not say that. It does not imply that," Athas said.
Cahill answered that he was simply reading from the organization's website and that retrofitting does imply taking something and remaking it.
"I can see where Councilman Campbell got his ideas from." Cahill said.
Council Member Lori Dodson also has a problem with the city's name being associated with the conference but she has no problem with city employees attending it.
She said that it feels like things are being hidden and things are coming up that City Council members have not been made aware of.
Council Member B.J. Williams asked how much the sponsorship cost and whether it included council or staff members attending the conference.
Senior Managing Director of Development Services Neil Montgomery said that the sponsorship cost is $5,000 and that whether it included admittance for staff or council had not been determined. He said he would check on it.