Council work session, regular meeting: May 16-17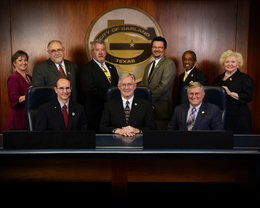 Council members sworn in; others say goodbye
Council Members Tim Campbell, District 1, and Billy Mack Williams, District 5, who did not seek re-election, said goodbyes to fellow council members and thanked them as well as city staff.
Mayor Doug Athas thanked them for their service to the city and presented them with plaques and city of Garland flags.
Returning Council Members Anita Goebel, District 2, and B.J. Williams, District 4, were sworn in. Both sought re-election and were unopposed. Both are entering their third and final terms. They thanked the citizens for allowing them to serve.
New City Council Members David Gibbons, District 1, and Rich Aubin, District 5, were sworn in.
City hires image consultant
The city has hired Tucker & Associates, a public relations consultant, at a cost of $158,980. The city's image is causing problems in several areas. Staff has experienced situations where they feel that negative perceptions of the city are affecting its opportunities. There are accounts of economic development efforts being hindered, depressing residential property values, decreasing new homebuyer interest and problems with staff recruitment at some of the major institutions in Garland. Additionally, there are problems attracting conventions and meetings to Garland through the Convention/Visitors Bureau.
The PR firm will evaluate the current image, ascertain information on what causes the negativity and develop a common community message that identifies Garland's advantages and assets.
New development at corner of Jupiter, Miller
Rezoning was requested for the northeast corner of Jupiter and Miller, part of the current Raytheon property, for a gas station, retail, drive-thru restaurant, convenience store and car wash.
Staff recommended denial because of the location of the site, not because of the request. Staff's concern is that it will further divide the Raytheon area and could prevent comprehensive development of the site. The Plan Commission recommended approval.
The request was approved unanimously.
Atmos requests rate hike
Atmos requested a revenue increase which will increase a typical residential customer's bill by $1.26 per month. Commercial customers' increase will be $3.81 per month. This item will be considered by council at the June 7 meeting.
Council discusses board appointee process
Jack May will continue on the board of the North Texas Municipal Water District. The position was posted for the required 14 days and May submitted the only application.
A discussion was conducted about the appointee process for the DART and Texas Municipal Power Association representatives. In the absence of Mayor Douglas Athas, Mayor Pro Tem B.J. Williams read a written suggestion from Athas. The message recommended that the normal policy of opening the positions to the public and going through an interview process for the positions be waived.
The mayor's message said that because of current issues with both agencies, he did not feel that it was a good time to change representation. He added that it would be unfair to have other applicants go through the interview process when "they stand virtually no chance of being appointed."
Council Members Anita Goebel, Stephen Stanley, Lori Dodson and Tim Campbell expressed opinions against waiving the policy and said that although the current representatives are doing a good job, it would be wrong to not allow other individuals to apply.
"I think this council is smart enough to make the correct decision based on the interview," Dodson said.
Campbell said that waiving the policy assumes that everyone would be voting for the sitting representatives. He added that it cannot be known how each council member would vote in advance because they are not allowed to discuss such items outside of meetings.
A decision was reached to postpone discussion of this item until the new council members are sworn in.