Crowds visit Vietnam Memorial Wall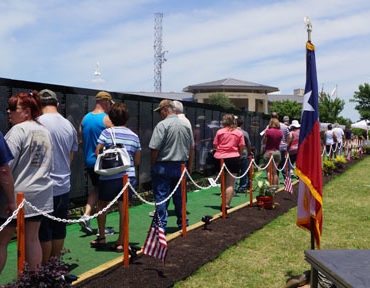 The word that first comes to mind while standing at the Vietnam Combat Veterans Memorial Moving Wall is "humbling." The second is "gratitude." The memorial wall, in Sachse for Memorial Day weekend, brought approximately 8,000 visitors from near and far to reflect and remember and to honor those who sacrificed their lives in the Vietnam war.
Numerous elected officials were on hand for a special Memorial Day ceremony and letters of support were read from Congressman Sam Johnson, State Representatives Angie Chen Button and Jodie Laubenberg and President George W. Bush. Approximately 500 people attended the ceremony.
The idea that the wall contains more than 58,000 names of individuals who died in Vietnam is difficult to comprehend. So is the fact that 12 of them were from Garland and one was from Wylie. Couple that with the fact that the average age of those who died was less than 24 and it becomes even harder to comprehend.
The young men who went to Vietnam were not given a choice about whether to join the military like they are today. Some did enlist, but the majority of them were drafted into service and many were straight out of high school. Still, they left their homes and families to go to this faraway place to fight for a cause that many didn't even understand.
That's bravery. That's courage. That's love of country.
As in any war, there were countless casualties – not just deaths, but chronic injuries and illnesses, health problems caused by Agent Orange, psychological trauma, alcoholism, drug addiction, post traumatic stress disorder and too many more to mention.
As if that was not enough, when they came home, after doing what they were told to do by and for the United States of America, they were not treated like the heroes they are, they were yelled at, cursed at and spat on. They couldn't find jobs and they had no help with re-entry into everyday life. They were ignored. Any health care they received, they fought for. Most of the help they got was given with contempt.
It was an unpopular war and so were the people who fought it.
The 58,000+ that did not return home gave it all and the ones that did return left parts of their souls there. Even though the wall only lists the ones who died, visitors cannot help but think of all of them while standing at the memorial.
It was an honor and a privilege to see the memorial wall and to reflect on the gratitude that is due each person whose name appears on it, along with the gratitude due their families.
Thank you to all who were involved in bringing this meaningful tribute to Sachse. The logistics of an operation like this are mind-blowing. A brigade of about 100 vehicles, including motorcycles, Sachse's and several other cities' police departments and the Sachse Fire Department, served as escorts.
Members of the Sachse Historical Society board provided volunteer services, along with the Sachse Community Emergency Response Team who distributed bottles of water to those waiting in line. Sachse's Parks and Recreation Director Lance Whitworth and Police Chief Bryan Sylvester also participated.
Additionally, the Whiskers For Wounded Warriors group guarded the Wall every night from midnight to 6 a.m. and even came back during the day.
Hundreds of other volunteers, too numerous to name, helped during the five-day event.
Jim Mathis served as event chair and Council Member Brett Franks was co-chair.
About the Wall: "The Moving Wall" is the half-size replica of the Washington, DC Vietnam Veterans Memorial and has been touring the country for thirty plus years. When John Devitt attended the 1982 dedication in Washington, he felt the positive power of "The Wall." He vowed to share that experience with those who did not have the opportunity to go to Washington, DC. John, Norris Shears, Gerry Haver and other Vietnam veteran volunteers built The Moving Wall. Two structures of The Moving Wall now travel the USA from April through November, spending about a week at each site.