Cynthia "Cindy" Boswell Brown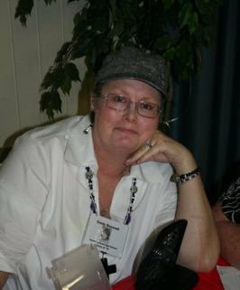 August 25, 1952 – August 07, 2017
Cindy was called home to our Lord on August 7, 2017 after a long and courageous battle with cancer.  She was a wonderful, creative, and loving wife, mother, grandmother, and sister.  She had a real zest for life and a generous nature indicated by her many years of giving back to her favorite charities.
For many years, she shared her passion of making jewelry and crafting by teaching classes to children.  Later on, she spent time with her grandchildren sharing stories, cooking, and continuing to teach them her joy of creating.  Cindy will be dearly missed by all who knew and loved her.
Cindy was born to James and Polly Boswell on August 25, 1952 in Fort Worth.  She was preceded in death by her parents.
Services will be held on Sunday, August 13, 2017 at 3:00 P.M. Mulkey-Mason Funeral Home, 740 S. Edmonds Lane, Lewisville, TX 75067 with Jim Mustain officiating.  Visitation will be held immediately following the service.
Cindy is survived by her loving husband, Stephen Brown; son, Scott Davis and wife Shanda Stanley of Carrollton; daughter, Shannon Cummings and husband Adam Basco of Thrall; step-son, Jeffery Brown and wife Jules Denton of Cedar Hill, and step-daughters Wendy Looper and husband Rodney of Lewisville, Gillian Carpenter and husband Kenny of Lake Dallas, and Angela Earle of Krum.  Eight grandchildren, Jeremy, Jared, Jacob, Mason, Katelyn, Bryson, Kylie, and Peyton; and one great grandson, Jace.  Brothers Jim Boswell of North Carolina and Mark Boswell and wife, Donna of Springtown.  Sister, Janet Hackley and husband Carl of Arlington.  Many nieces and nephews and a lifetime best friend, Peggy Minter.
In lieu of gifts and flowers, the family asks that donations be made to one of the causes greatly supported by Cindy; Children's Tumor Foundation (ctf.org) or National Breast Cancer Research Foundation (bcrfcure.org).