District dedicates Gilbreath-Reed Career & Tech Center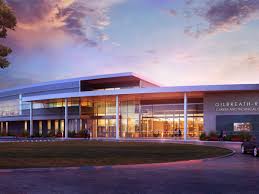 Saturday, Nov. 4, was a red-letter day for Garland Independent School District as a large group gathered to celebrate the opening of the Gilbreath-Reed Career and Technical Center. Current career and technical education director, Dr. Phillip Gilbreath and first vocational education director, the late J. Clarence Reed, the namesakes the center, were honored during the festivities. As lifelong educators, both honorees have been instrumental in the development of the district's career and technical education program.
Reed began working at GISD in 1951 as a vocational agriculture teacher and went on to serve the district in assistant principal and principal positions. His son, Jed Reed, is a former GISD teacher and current trustee.
Gilbreath began his GISD career in 1967 as an industrial arts teacher at Garland High School and has long been a supporter and advocate of career and technical education. He has been involved in developing CTE programs at GISD high schools and became the district's second director of CTE after Reed's 1982 retirement.
The 90+ programs offered at the center afford juniors and seniors from all Garland ISD high schools the opportunity to expand their education by learning trades and earning specific job-related certifications, as well as earning college credit as high school students.
GISD has already produced a number of students with the training and credentials that made them 100 percent ready for the workforce upon graduation. This state-of-the-art tech center will increase that number as it provides students who cannot, or do not wish to, attend college upon high school graduation, a viable, good-paying career opportunity.

Interim Superintendent Dr. Deborah Cron introduced current and past board members Dr. Cindy Castaneda, Elvia Flores, Steve Knagg and Steve Hill. She also recognized the presence of past superintendents Dr. Jill Shugart, Dr. Curtis Culwell and Dr. Bob Morrison, as well as the newly appointed Dr. Ricardo Lopez.
Representatives from the Reed and Gilbreath families also celebrated the honorees and plaques featuring both honorees were unveiled at the end of the ceremony.
The dedication was held on the third anniversary of the election that ended with an affirmative vote for the $455 million bond program that made the center possible. The date was also the anniversary of Reed's passing.
State Representative Cindy Burkett and representatives from several other elected officials' offices also attended.
View a list of center courses.