1 Pound Burger best in town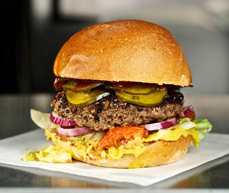 Hezha Sulaiman, owner of 1 Pound Burger located at 608 Main Street, takes a great deal of pride in the quality of the food served at his restaurant.
After being in the food service business for more than five years and owning businesses in several locations, he has settled in downtown Garland to share his love of good, fresh food.
Sulaiman had looked for a location for his burger shop for seven months when his mother, who attends church near downtown Garland, told him about the area. He immediately liked it and knew it was where he wanted to be. He enjoys the small town feel of downtown and likes that everyone knows each other.
He would like to see more retail businesses in the area. Additionally, he wi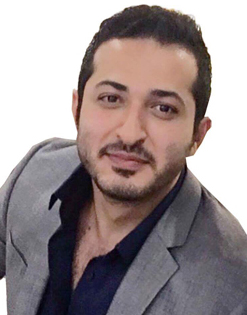 shes that he made enough money to build a shelter for the homeless population in the area.
The restaurant owner, who has been in the U.S. for 12 years, grew up in the Middle East. His family later moved to Poland which is when he began to learn to cook. He cooked for his brothers and their friends with the help of his aunt and mother.
"I liked putting a smile on their faces," he said.
He joked about how his first attempt on new dishes often ended up in the garbage can, but he continued trying until he got it right.
Sulaiman loves good food and believes that it brings people together.
"There are people who do not like each other, but when they sit down at a table together with good food in front of them, they don't argue," he said.
The restaurant owne
r believes in using only the freshest ingredients and never serves anything that has been frozen or precooked. He picks up fresh Angus beef at his supplier every morning. It costs more to use only fresh, organic ingredients but he doesn't mind that.
Restaurants where precooked and frozen foods are served usually have a food cost of 19 percent. The food cost is 34 percent of expenses at 1 Pound Burger.
"That's a big difference, but I care about my reputation. I care more about people thinking that my food is amazing than making more money," Sulaiman said.
He chose to open a burger restaurant because it is difficult to find a good hamburger anymore. Most are precooked and frozen and even the buns taste terrible.
"You need a real bread bun, fresh vegetables and certified Angus beef to make a great burger," he said. "Not all meat is 100 percent meat. You can't imagine some of the things that are mixed with it."
He owned a franchise restaurant, Murphy's Deli, in Dallas and sold it after 3 ½ months because everything arrived frozen and precooked. Because it was a franchise, he was forced to use what was sent.
"It was nasty, but I had no control over it," Sulaiman said. "They have over 120 locations and they make money, but I just couldn't do it. You become a slave when you open a franchise. Whatever they say, you have to do it that way."
Online ratings for 1 Pound Burger are excellent and that is because of the quality and freshness of the food as well as the excellent preparation.
If you aren't in the mood for a burger, other choices are available.
Sulaiman is happy to cater large parties and receptions.
Stop in and meet Hezha and try the delicious food. You'll be glad you did!
Hours of operation:
Monday & Tuesday 11 a.m. – 3 p.m.
Wednesday &Thursday: 11 a.m. – 6 p.m.
Friday 11 a.m. – 8 p.m.
Saturday: 11 a.m. – 6 p.m.
Sunday: Closed