Deputy city manager announces retirement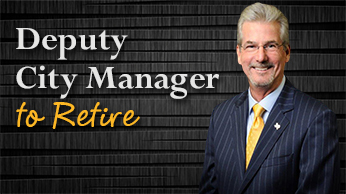 For the past 37 years, Deputy City Manager Martin Glenn has served the city of Garland and helped shape its destiny. He is retiring Sept. 1, leaving a legacy of excellence and innovation in the areas of planning, urban development, economic development and city management.
The city will celebrate Martin during a retirement reception on Thursday, Sept. 1.
Martin began his career with the city of Garland as an Urban Analyst in 1979 and was named Director of Planning in 1985. After serving as assistant city manager since 1992, he was named deputy city manager in 2004.
"Martin has either initiated or shepherded almost every major initiative and project in Garland during the past 20 years," said City Manager Bryan Bradford. "Because of his humble spirit and servant leadership style, many in the community have no realization of the extent of his contributions. Those of us internal to the city organization, however, know very well that Martin has been at the very core of our success. It is truly difficult to imagine the organization without him."
Mayor Douglas Athas expressed his appreciation for Martin's service on behalf of the city Council.
"We are grateful for Martin's many years of contributions to Garland, through his dedication and while serving in many roles. Martin has been instrumental in so many projects and in the work of so many departments, that I often referred to him as our chief operating officer. This community will enjoy the results of Martin's leadership and wisdom for generations to come."
Martin said he feels blessed to have been associated with the city of Garland for the past 37 years. "Working for the city has been very fulfilling, giving me the opportunity to serve the organization in a number of positions, each demanding in its own way. I am proud and thankful that I have been part of a great organization and helped guide the city's growth and development from a population of 138,000 in 1979 to a population of more than 237,000 today. Garland is family, and the friendships that I have made are lifelong."
Martin earned both his Bachelor of Science in architecture and his Master of Science in city and regional planning from the University of Texas at Arlington. He is affiliated with the American Planning Association, the City Planners Association of Texas and the North Texas City Management Association.
Martin and his wife, Phyllis, plan to travel and enjoy more time with family and friends.
Information and photo provided by city of Garland.