DHV hosts party, raises restoration funds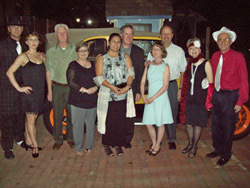 Dallas Heritage Village came alive Saturday, April 25 with the sound of lively music and the sight of 1920s costumed attendees dancing and enjoying History with a Twist, a fundraiser held to raise money for the restoration of structures on the DHV site.
Additionally, there were silent and live auctions, games, vintage cars, food provided by Jim Lee Events and drinks provided by Brian McCullough of The Standard Pour. The event was presented by Sidely Austin LLP and 1920s music was performed by the Singapore Slingers. Attendees also had the opportunity to have friends sent to "jail" to help raise funds.
Garland was well-represented at the event at tables sponsored by Kay and Louis Moore and Barbara and Don Baynham.
About Dallas Heritage Village: A 20-acre site, Dallas Heritage Village is home to 30 historic homes and buildings that have been relocated there for restoration and preservation from various North Texas locations. The site was the location of Dallas' first park established in 1876. DHV offers tours, children's activities, field trips, parties and more. For more information, visit www.DallasHeritageVillage.org.
Photos by Kay Moore and Merrill Balanciere