Discord, disagreement, recalls, resignations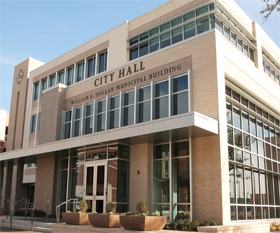 A vote to call a recall election was on the Dec. 12 City Council meeting agenda, but District 2 Council Member Anita Goebel announced during the meeting that she will resign effective May 5, 2018. The resignation letter stated that Goebel believes the recall petitions are invalid and she feels that she would prevail in a court challenge but she preferred that the city not incur legal fees. Additionally, she did not want the issue to continue damaging the city's image.
Citizens who wished to speak on the issue included defenders of Goebel as well as citizens who disagreed with the armory decision.
One speaker said that she regretted signing the recall petition and that she did not understand what she was signing. Another praised Goebel's support of charities, first responders and local churches and others expressed gratitude and appreciation for Goebel's work.
Several other speakers acknowledged that one of the good things that came from the recall is that Garland citizens have found their voices.
Another said that six council members have made bad decisions and she assured them that they will be remembered at election time. The speaker added that the citizens didn't "go after" the other five council members because there wasn't enough money and it made sense to go after the one who represents District 2.
One citizen predicted that Goebel "won't fall alone."
After discussion, Council Member Rich Aubin made the motion to accept Goebel's resignation and Council Member Robert Vera seconded. The motion passed unanimously.
Side effects of apathy, antagonism
The majority of Garland's citizens have historically been apathetic and voter turnout is less than low, but the citizen involvement that has come as a result of the armory demolition issue is a step in the right direction.
Disagreement can be positive and often spurs needed change by opening discussion. Points of view from every side are important and can result in compromise with solutions that suit everyone. But problems are the result when disagreement progresses into anger and hostility.
The contention, snippy comments, raised voices and accusations will not improve Garland's image and image improvement is imperative at a time when the city is losing its only hospital and the IH-635 project that could have breathed life into a decaying part of Garland is now dead. In addition, numerous areas, including key gateways into the city, are in need of revitalization and the streets continue to need major repairs.
If Garland has any hope of competing with other North Texas cities for new development as well as new residents, it might be advisable for its elected officials to fix whatever is causing the prevailing hostility and concentrate on the business of running the city. The obvious tension and dislike cannot lead to good, positive changes for Garland and even though some officials appear to be trying to stay out of the ruckus, the reputation of the entire group, as well as the city, suffers.
The armory demolition decision, along with the controversy surrounding it, should serve as a wake-up call for Garland residents and it has already spurred a new level of involvement for some folks.
Bringing about change begins with being informed. Attend council meetings and work sessions or watch them on television or online. Check agendas online or at city hall in advance to find out what the council will be voting on or discussing. When an issue affects you, your neighborhood or the city as a whole in a way that you feel is harmful or ill-advised, speak up.