Donald Giles arrested in murder case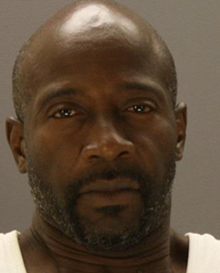 Donald Ray Giles, the suspect in the murder of Donald St. Clair, was arrested July 23 by officers from the Dallas Police Department.
Garland homicide detectives determined that Giles had intentions to burglarize the warehouse when St. Clair, 91, was murdered.
Giles will be charged with Capital Murder and is being held in the Dallas County Jail on a $1,000,000 bond.
For more information, visit the Garland Police Department.
Background: 
On July 4, the Garland Police Department responded to the report of a body found in a warehouse located in the 700 block of Shepherd Drive. Upon their arrival, they found the body of a male subject dead inside the location. The victim was later identified as Donald Wayne St. Clair. Garland Police Department detectives have now obtained a warrant for 53-year-old Donald Ray Giles of Dallas for the murder of St. Clair.
Giles is known to frequent areas in Garland and Dallas and he has ties to Houston as well.
If anyone knows the whereabouts of Giles, they are asked to call the Garland Police Department at 972-485-4840.
Tips may also be submitted anonymously to Garland Crime Stoppers at: 972-272-8477 (TIPS), www.garlandcrimestoppers.org, or Text "Garland plus your message" to 274637 (CRIMES)
A reward of up to $5,000 has been offered by Garland Crimes Stoppers for information leading to an arrest.