It's time to get flu shots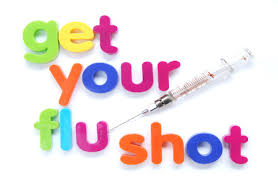 Flu season has started and getting a vaccination shot now could save you from the misery of getting the disease!  The Center for Disease Control recommends an annual flu shot for everyone six months of age and older because it is the best protection against the disease. It's fast, easy and most insurances pay for the vaccine, so there's no reason to skip it. It takes two weeks for it to become effective so the sooner the better.
It's not possible to predict how severe this year's flu season will be or exactly when the disease will begin to spread, as it varies from year to year. Activity of the disease most commonly peaks in the United States between December and February.
The flu is hardest on older people, young children, people with certain health conditions and pregnant women. Children younger than 6-months-old are also at high risk of serious complications, but are too young to get a vaccine. Because of this, safeguarding them is especially important. If you live with or care for an infant younger than 6-months-old, you should get a vaccine to help protect them.
The more people who get vaccinated, the more people will be protected and the fewer people will spread this disease. In addition to getting a seasonal flu vaccine, take common sense precautions such as:
Staying away from sick people

Washing hands often to reduce the spread of germs

Staying home if you're sick

Ask your doctor about prescription antiviral drugs that can be used to treat influenza
It is a common misconception that a flu vaccination can cause flu illness. This is not true and should not be used as a reason to skip the shot. The most common side effects from the influenza shot are soreness, redness and tenderness or swelling where the shot was given. Low-grade fever, headache and muscle aches also may occur. These side effects are far less severe than flu symptoms.
The flu can cause other conditions, some of which are moderate, but some can be very dangerous. Sinus and ear infections are examples of moderate complications from flu, while pneumonia is a serious flu complication. Just a few of the other possible serious complications triggered by flu can include inflammation of the heart (myocarditis), brain (encephalitis) or muscle (myositis, rhabdomyolysis) tissues, and multiorgan failure such as respiratory and kidney failure.
FYI:  Garland's Public Health Clinic at 206 Carver Drive has low-cost flu vaccines for children and adults, including the high-dose flu vaccine for age 65 and older. For more information, call

972-205-3370.