Don't miss 'The Godfather' film series at Plaza Theatre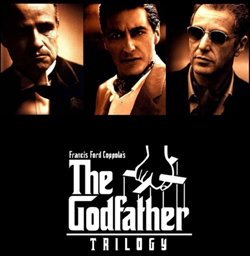 Mark your calendars for the free screening of "The Godfather" film series at the Plaza Theatre in downtown Garland Aug. 18 at 7 p.m., Aug. 19 at 7 p.m. and Aug. 20 at 2 p.m. Often referred to as an 'epic masterpiece' this three-film series is on the don't miss lists of all movie enthusiasts.
The three films were directed by Francis Ford Coppola and based on novels written by Mario Puzo. The first film was released in 1972. "The Godfather Part II" was released in 1974 and the third installment, "The Godfather Part III," was released in 1990.
"The Godfather Part I" was lauded as one of the best films ever made by many and the second was believed by numerous movie buffs and critics to be the best sequel ever produced. All three of the films were box office successes that received more than 25 Academy Award nominations and won nine. Two of those Oscars were awarded to the first and second installments for Best Picture and another was won by Marlon Brando for his extraordinary portrayal of mob family boss Vito Corleone.
'The Godfather' was the top grossing film of all time for three years running. Part II was the first sequel to ever win the Academy Award for Best Picture and the first picture ever to receive five Oscar nominations for acting. Al Pacino, Michael V. Gazza, Robert DeNiro, Talia Shire and Lee Strasberg won Academy Awards.
The first two installments are on Roger Ebert's Great Movie List. Part II was voted the "Greatest Film of All Time" by the readers of Entertainment Weekly; its sequel placed at No. 7. Both Parts I and II are on Time Magazine's "All-Time 100 Best Films" and IGN FilmForce lists "The Godfather Part I" as the No. 1 "Top Drama of All
Time" with Part II as No. 7 on that list as well. These films are listed on the majority of best film lists ever compiled.
Parts I & II are both on the American Film Institute's list of "100 Greatest American Movies of All Time," listed at No. 3 and No. 32, respectively.
The 1972 movie also featured James Caan, Robert Duvall, Diane Keaton, Al Pacino, Talia Shire, John Cazale and Abe Vigoda and served as break-out performances for several actors.
The American Film Institute's List of Top 100 Movie Quotes includes a line from Part 1 in the No. 2 spot – "I'm gonna make him an offer he can't refuse." The second installment contains the list's No. 58 Best Movie Quote, "Keep your friends close, but your enemies closer."
Mario Puzo's novel, "The Godfather," has sold more than 21 million copies and spent 67 weeks on the best-seller list.