Don't miss 'Nice Work If You Can Get It'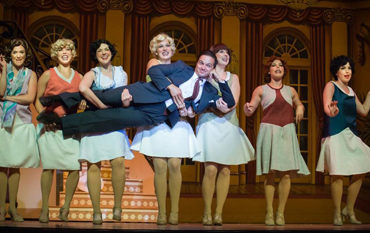 The dazzling lights of Broadway seem a little closer to home as the Garland Summer Musicals continues its 2016 season with Tony nominated "Nice Work If You Can Get It." With music and lyrics written by George and Ira Gershwin and a book by Joe DiPietro, this musical already seems to be a classic.
Set during the 1920s Prohibition Movement, the musical revolves around Jimmy Winter, a wealthy playboy and his chance meeting with tomboyish female bootlegger Billie Bendix on the night before his wedding. Initially, Jimmy is set to marry Eileen Evergreen, a narcissistic modern dancer.
But his plans go haywire after Billie stashes alcohol in the basement of Jimmy's mansion just as his fiancée's prohibitionist family arrive for the wedding. In a whirlwind of chorus girls, police chases and wedding bells, Jimmy and Billie realize just how unexpected romance can be.
The show includes iconic songs such as "Someone to Watch Over Me" and "Let's Call the Whole Thing Off."
GSM producer Patty Granville said after seeing the upbeat choreography and wonderful comedy of "Nice Work If You Can Get It" in New York, she thought it was the ideal show for Garland residents to enjoy.
Jimmy Winter actor Carl DeForrest Hendin previously travelled the country with the national tour of this musical.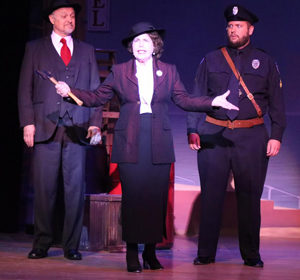 "Getting the opportunity to come back and play the lead and help choreograph it was awesome," Hendin said. "The best part about playing Jimmy is probably how goofy yet charming yet sophisticated and smart he is. It's cool to play all of those characteristics and traits."
Lauren Urso made her GSM debut in the role of Billie Bendix.
"It was hard to tap into that tomboy character, but once I started it just got so fun," Urso said.
The choreography is by Kelly McCain and Carl DeForrest Hendin. The set designer is Kelly Cox. Costumes are by Suzi Cranford and Michae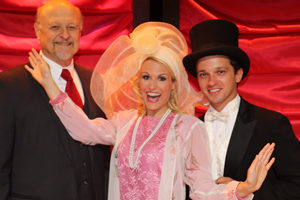 l Robinson. Susan White is in charge of lighting design.
According to Granville, who also plays the role of Duchess Estonia, it is pivotal to bring theater to Garland to help keep spirits alive.
"When things are tough and the world's situation is so difficult, we have to have laughter and a sense of balance in our lives to remember the good," Granville said. "And this helps us remember the good. We just enjoy laughing and bringing people together in a positive way. And that's what theater is all about."
Don't miss this spectacular production of "Nice Work If You Can Get It" at the Granville Arts Center, 300 North Fifth Street in downtown Garland. Remaining shows are July 23, 29 and 30 at 8 p.m. and July 24 and 31 at 2:30 p.m.
For more information and to purchase tickets, visit: www.garlandsummermusicals.org