Don't miss Live Well | Go Green Expo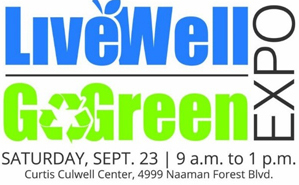 If you're looking for tips for a healthy and environmentally friendly lifestyle, mark your calendar for Garland's free Live Well | Go Green Expo!
When: Saturday, Sept. 23, 9 a.m. to 1 p.m.
Where: Curtis Culwell Center, 4999 Naaman Forest Blvd.
More Info: GoGreenGarland.com
While enjoying the variety of exhibitors and activities, don't miss the free Stop & Learn sessions that will take place inside the arena at 10 a.m., 11 a.m. and noon. These free 15-minute learning sessions will cover a variety of Healthy Earth and Healthy You topics. Stop & Learn sessions also are a great opportunity to speak with experts, ask questions and watch demonstrations.
Stop & Learn sessions featured at the 2017 Live Well | Go Green Expo:
American Heart Association – Hands-Only CPR
First Step Chiropractic – Three Tips to Become a Posture Pro
Garland ISD Blood Glucose – Live Well, Prevent Diabetes
Garland ISD Student Nutrition Services – Texas Fresh with S.N.S.
Garland ISD Wellness – My Plate
Keep Garland Beautiful – Rain Barrels DIY
Life at the Table – Learn to Be FEARLESS in the Kitchen!
Loving Garland Green – Regrow Veggies, Caterpillar Condo and Loofah
Roach Feed & Seed – Raising Chicks and Best Hens for the Backyard
V-Fit – Zumba
WHoly Formed Yoga – Yoga 101
The Live Well | Go Green Expo also features a variety of free health screenings and the opportunity to visit Healthy Earth and Healthy You exhibitors. Enjoy Outdoor Fest outside the Culwell Center and bring your recyclables to Recycle Row.
For complete details, visit GoGreenGarland.com.
Admission to the expo and parking are free. To ensure guest safety and a quicker entry, the Curtis Culwell Center has implemented a clear bag policy, limiting the size and bag type for all events. Only clear and small clutch bags are allowed.
The Live Well | Go Green Expo is presented by the city of Garland Environmental Waste Services, Stormwater Management, Water Utilities, Parks, Recreation & Cultural Arts departments; Garland Power & Light and Garland Independent School District. For more details, visit GoGreenGarland.com