Dorothy Lee Davis Bourek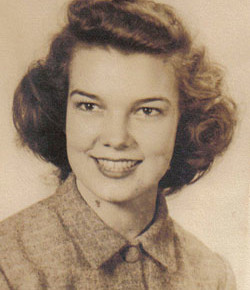 November 9, 1928 – April 5, 2015
 
Dorothy Lee Davis Bourek, 86, of Schulenburg, went to be with her Lord and Savior Easter Sunday, April 5, 2015. Rev. John Pflug, Jr. will conduct the funeral service at the First Presbyterian Church of Winnsboro Saturday, April 11, at 1:30 p.m. The church is located at 301 South Walnut in Winnsboro. A reception will be held at the church following the service. The gravesite service will be held at the Quitman cemetery in Quitman at 3:45 or 4 p.m.
 
Dorothy was preceded in death by her son, Joseph William (Bill) Bourek, her daughter Vicki Lynn Bourek Francoeur and her husband Paul William Bourek. She is survived by her sister Corinne Robertson and brother-in-law Bill Robertson. She is also survived by her daughter Hazel Kathleen (Kathi) Bourek Yoshii and daughter Amy Christine Bourek Vacula and sons-in-law Dennis Vacula and Robert Francoeur.
 
She is also survived by grandchildren Thomas Bourek; Guy Bourek; Adam Janes and his wife Ann; Lauran Janes Lambert and her husband Evan; Benjamin Vacula and his wife Veronica; and Dorothy Vacula along with two step-grandchildren Jean Paul Francoeur and Jason Francoeur and great-grandchildren Alister Janes; Maia Lambert; Madeline; Olivia; Gabriel; and Claire Vacula and step-great-grandchildren Julian; Sofia; Ethan; and Bella Francoeur, plus many nieces and nephews.
 
Dorothy was born in Lincoln County, Oklahoma Nov. 9, 1928. She was the daughter of Henry Davis and Hazel Kughn Davis. She met her Beloved Paul Bourek in the First Presbyterian Church of Stillwater, Oklahoma. and they married June 1, 1948.
 
Dorothy and Paul both graduated from Oklahoma State in Stillwater in 1948. Shortly after they married and moved to Denton her husband Paul received his master's degree in music at the University of North Texas. They later moved to Garland. Dorothy received her master's degree in liberal arts from Southern Methodist University. They both taught school in the Garland Independent School district for many years. After retirement they moved to Quitman and taught part time in the Quitman Independent School District.
 
Dorothy Bourek was a loving wife, mother, grandmother and great grandmother to her family. She was a devout Christian and deeply involved in her church at First Presbyterian Church of Garland and Winnsboro. She taught Sunday school, sang in the church choir and had been an active Deacon and Elder in her church life. Dorothy loved art, classical music and dancing. She was well-read and had many interests. All of her children would say their mother was always a stimulating conversationalist.
 
If you had ever asked Dorothy Bourek how she was doing, she would say, "I'm in pretty good shape for the shape I'm in." She continued to keep affirming and singing "I Like Life!" even when facing great adversity. Rest in peace beloved Dorothy as you go to live with the Lord you so love.