Eagle Theatre Company receives international invitation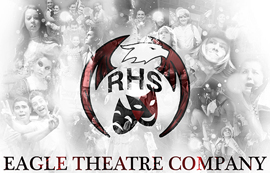 Garland ISD has earned local, state and even national honors for its excellent fine arts programs. But the district is now receiving international attention. Rowlett High School's Eagle Theatre Company has been invited to perform at the 2018 American High School Theatre Festival in Edinburgh, Scotland. Approximately just 20 schools across the globe received this prestigious offer.
To even be considered, a group must first be nominated. Hardin Simmons University nominated RHS, which speaks volumes about the quality of the campus's program.
After the nomination, theater director Brandon Tijerina had to submit a production history documenting the school's shows, as well as recommendation letters and parent and student testimonials. Brandon came to RHS 11 years ago, and families from then until now all came together to create a moving testimonial video, which can be viewed on YouTube. The Eagle Theatre Company received its invitation in May of this year, and the Festival takes place next August.
This is the first time a GISD school has been nominated to perform at what is often called the biggest performing arts event in the world. But RHS is no stranger to forging new paths of opportunity. The campus was also GISD's first to enter the Dallas Summer Musical's High School Musical Theatre Awards. It is now that competition's most nominated high school, and several students have won awards as well.
Bringing international recognition to the district, RHS students will get the opportunity to perform in four different venues and socialize with students from other theater groups around the world while in Scotland. They will also take master classes in Shakespeare's Globe Theatre in London, England. The performance they are taking overseas is a unique piece with no speaking, which was produced by Tijerina himself. Watch the Eagle Theater Company's one-minute trailer for Vox on YouTube.
The group also created a Facebook page to chronicle their journey, as well as fundraising efforts. It can be accessed at www.facebook.com/etcfringe.
"This is a very special and once in a lifetime opportunity," said Tijerina. "The students have worked tirelessly to get this nomination, and we are humbled by it. We hope to represent GISD in the best way possible on the international stage."
Information provided by Garland ISD.