Easter bunny brings fun for special needs individuals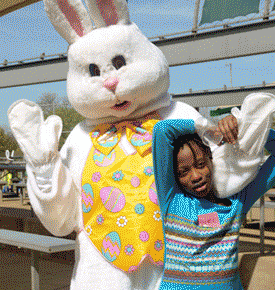 The Easter bunny shared hugs and high fives during his recent stop at the Special Ones Easter Egg Hunt held at Garland's Carter Softball Complex. The event was a big hit filled with fun for everyone.
Kristal Davis, founder of the Special Ones Network, organizes this event every spring for special needs individuals and their families. Despite the preparation and work an event of this type requires, Davis refuses to take credit. She credits the help of her husband Dean, her family, a long list of friends and her Orchard Hills Baptist Church family for the success of the Easter egg hunt.
The event grows and new activities are added every year as more people hear about the event and want to help make it a fun day for the special needs individuals. This year, the softball fields were dotted with 32,000 plastic eggs – a new record – which were collected, filled with candy and hunted by the participants.
People of all ages and various disabilities enjoyed a day where all they had to think about was having fun.
There were hot dog lunches for participants as well as tables of baked goods and treats. A balloon sculptor was on-hand to provide all kinds of balloon hats and kids sported all kinds of art that face painters provided.
There was a bounce house and carousel and the Garland Fire Department brought an engine for the kids to explore. Additionally, stylists from Miranda's Barber & Salon were giving free haircuts.
Watch for information this fall about the Special Ones Network annual Christmas party with Santa Claus, gifts, activities and food.