Fall styles, designers shine at HDNBC Fashion Show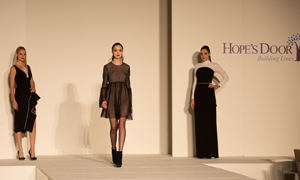 Hope's Door New Beginning Center introduced seven designers to Collin County at their second annual Fashion Show + Luncheon Sept. 15 at the Hilton Dallas/Plano Granite Park. The fashion show was produced by Jan Strimple Productions.
Honorary Chair, Victoria Snee and Luncheon Co-Chairs, Missy Bender and Linda Griffin, set the tone for the festivities. After the Fashion Show, Snee asked each of the fashion designers to the catwalk to explain the Designer Experience available to guests to bid on in a Silent Auction. Designers Abi Ferrin, Shirin Askari, Samina Mughal, and Nha Khanh all offered two teens or tweens the opportunity to spend a day with the designer, attend a photoshoot, or have a hair and makeup makeover. In addition to the fashion designers, three accessory designers, Deborah Gaspar, Britt Harless and Jeanette Korab, all donated a percentage of their sales to HDNBC in the Own the Runway Boutique.
"This event provides such beauty and joy at a time when we all see so much bad news," remarked Snee, Director of Marketing for Legacy West. "We are delighted to have these designers share their new fall looks with us."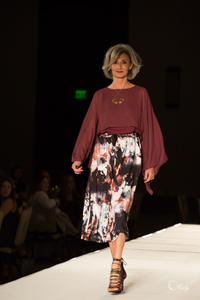 Missy Bender, President of Plano ISD board of trustees, expressed the close relationship the school district has with HDNBC and how both organizations mutually support the other.
"School administrators know they can safely provide students and families referrals to Hope's Door New Beginning Center for the services they may need and that information remains in complete confidence," Bender said.
Linda Griffin, Garland ISD board of trustees, recognized how students' performance in school improved with the safe-haven provided by HDNBC.
"When a parent is getting the support and counseling they need to become safe and healthy, the environment at home improves and we see that reflected in the students at school," Griffin stated.
Hope's Door New Beginning Center CEO, Jim Malatich, reminded guests that individuals experiencing intimate partner and family violence heal at their own pace.
"We will be with our clients as long as they need us, just as our supporters are with us in such a committed fashion." Malatich thanked those attending for their dedication to the mission and cause of HDNBC.
Based in Plano, Hope's Door New Beginning Center has seven locations. Both Plano and Garland operate emergency shelters housing up to 55 individuals and are constantly at capacity. The agency's other locations include counseling offices and Resale Stores in both cities. A separate Batterers Intervention and Prevention Program is also located in Garland.
About Hope's Door New Beginning Center: A comprehensive intimate partner and family violence agency serving North Texas. The agency's mission is to offer intervention and prevention services to individuals and families affected by intimate partner and family violence and to provide educational programs that enhance the community's capacity to respond. For more information, visit www.hdnbc.org, Facebook, Twitter, or Instagram.
Hope's Door New Beginning Center Administration, 860 F Avenue, Suite 100, Plano, TX 75074. 972.422.2911. Crisis Hotline: 972.422.SAFE. https://www:hndbc.org