Family first for Texas Roadhouse managing partner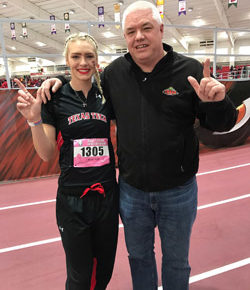 Family first isn't just a casual phrase for Texas Roadhouse Managing Partner Robert Hinton of Garland. When offered the opportunity to win the coveted Managing Partner of the Year award and $25,000 he politely declined, twice.
Why? He didn't want to miss the Big 12 Indoor Track & Field Championship – his 19-year-old daughter Kaylee's biggest competition of the year.
"I've gotten plenty of accolades," Robert says. "At this point, winning more is not a priority."
Kaylee, a sophomore at Texas Tech, is a division one heptathlete. She competes in the long jump, high jump, shot put, javelin, 200 meter, 800 meter and 100 meter hurdles. It's the ladies version of the decathlon. She's also the youngest of Robert's four children.
"I can only do this one time in my life. This is it," he says. "It's the last thing we have with her. When she's done, I can focus more on myself."
Some weeks, Kaylee travels up to 1,500 miles for meets around the country. But, when she's in Texas, her biggest fan is always in the stands.
"I love my job and love Texas Roadhouse and wouldn't want to work anywhere else. But, I don't want to miss out on her time in the spotlight," Robert says. "My kids come first. It's one of the reasons I'm here. I can run my own store and not be pressured into other stuff. I have the freedom to make my own decisions and take care of my restaurant. It's the best of both worlds."
Texas Roadhouse is located at 5012 N. President George Bush Highway in Garland.
Fundraiser Nights at Texas Roadhouse: Looking to raise money for your group, team or organization?  Look no further because Texas Roadhouse in Garland wants to partner up! Contact us at the restaurant for more information on our 10 percent fundraiser events, available Monday and Tuesday nights.