Fate of oldest Garland house depends on study results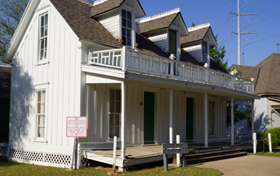 The fate of the Tinsley/Lyles House was again a topic of discussion at the Sept. 18 City Council work session. Mayor Pro Tem David Gibbons began the discussion by voicing his opinion on Mayor Douglas Athas' FB post below:
"As the council reviews the budget, anything can arise. There seem to be several on the council that question the staff's proposal to finally do some restoration of the Tinsley/Lyles House behind the library. I forgot until tonight that they probably know nothing of the house or why it has been saved so far. It is the earliest surviving building in the city, built c. 1875. It is the oldest physical marker of our history. It was the residence of the Tinsleys, who sold land to the two railroads that crossed lines where Garland would later be sited. (The house was later sold to the Lyles family.) The earliest part of the house was built with hand-sawn lumber and pieced together with classic craftsmanship, lap joints held together with Bois D'arc pegs and joists hung from hand-chiseled notches. Nothing better tells our history than the depot, the rail car, and the Tinsley/Lyles house at Heritage Crossing Park between the downtown library and the community college. It was suggested tonight that we just bulldoze it rather than finally do some restoration after decades of neglect. So what do you say? Save our earliest history or just bulldoze it?" From Doug Athas FB page.
Gibbons said that the mayor's post was not incorrect but was not "complete and not an accurate reflection" of what council had discussed and decided.
He added that the post was "without all the facts" as it did not specify that the $75,000 budget request would be used only for maintenance, not for restoration and that $316,000 in taxpayer money has already been spent. That money covered the construction of a foundation and the move the structure to Heritage Park. Gibbons also said that the FB post did not explain that Preservation Garland had not kept its commitment to raise funds needed for restoration. The $20,000 that has been allocated for a study to determine the restoration cost and maintenance costs was also not addressed.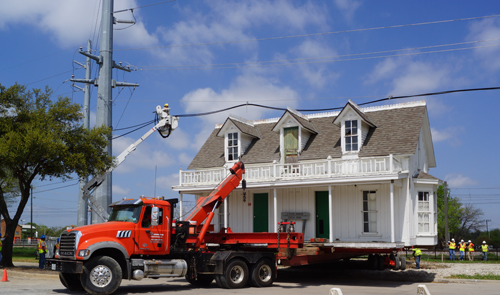 City staff presented history that explained how the Tinsley/Lyles House had ended up at its current location. It originally sat at the corner of Austin and First streets and first faced the possibility of demolition in 1978-79. At that time, council requested that the house be moved to Heritage Park. It was relocated and the Landmark Society used a combination of private donations and city funds for restoration. Extensive repairs were made to the exterior but funds were depleted before interior renovations could be done. It was used as a storage facility for Landmark Museum until 2013 when it had to be relocated again to make room for downtown improvements and additions.
For a time, it sat on a trailer behind the Granville Arts Center and was then moved to the new Heritage Park location at Sixth and Walnut streets.
The city, along with several other groups, have been trying without success, for 39 years to raise money for renovations and Gibbons said that it was foolish to believe that it can be done by a private entity.
"We have a lot of people who say 'save this building,' but I don't see any of those people down here with their checkbooks writing checks to help us save this building," Gibbons said.
He then said that he doesn't understand having a museum that is only open four hours per week, a railcar that is used for storage and a house that isn't accessible and added that it is apparently not important enough for the people who say they care about it to find a way to do something.
Athas said that the upcoming study is important as it will give the cost of restoring the historic house. He added that it should have been done when the city accepted the house many years ago. Athas then thanked Gibbons for mentioning his Facebook post.