Free back-to-school haircuts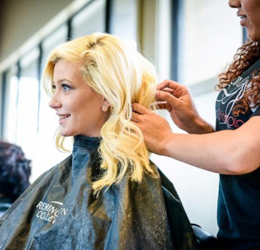 Remington College is again helping send kids back to school looking and feeling their best – and saving their parents some money – through its eighth Cuts for Kids event. During the month of August, Remington College will provide free back-to-school haircuts for students 17 and under. The haircuts will be done by students in the Remington College cosmetology program.
Here's how to participate at Remington College Dallas Campus:
Dates: Tuesday, Aug. 1 – Thursday, Aug. 31
Address: 1640 Eastgate Dr., Garland
Hours: Wednesday – Saturday, 9 a.m. – 1 p.m.
For appointments: Call 972-698-3890. Walk-ins are also welcome.
Parents can save even more money during Cuts for Kids and get a free salon service for themselves. Any adult who brings in a donation of school supplies – pencils, pens, notebooks, etc. – can get a free haircut, manicure or pedicure. All the school supplies collected will be given to local schools.
Remington College has provided more than 16,000 free back to school haircuts through its Cuts for Kids program.  It's an important part of Remington College's mission to give back to the local community.
The Remington College Cosmetology program teaches students the art of hair, skin and nail care through traditional classroom instruction and hands-on training in The Salon at Remington, which allows students to work with real clients.
For more on the Remington College Cosmetology Program, visit remingtoncosmo.com
or call 1-800-448-6405.
About Remington College: Nonprofit Remington College, headquartered in Heathrow, Florida, operates 16 college campuses throughout the United States offering career focused diploma, bachelor and associate degree programs in a variety of career fields. For more information, visit ,remingtoncollege.edu.
For the latest news about Remington College, visit facebook.com/remingtoncollege. Remington College does not discriminate on the basis of race, color, national and ethnic origin in administration of its educational policies, admissions policies, scholarship and loan programs and other school administered programs.