Friendship House serves community members in need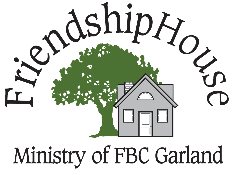 One of Garland's longest-lasting charities is Friendship House, part of First Baptist Church of Garland, which has been helping impoverished citizens get on their feet for 37 years. The passion and single-minded focus of its workers is what has kept the organization going for so long as well as what makes this ministry unique.
The organization was founded in 1977 by Ann Heath, who was 70-years-old at the time, and her willingness to serve has left a remarkable imprint on the organization. Friendship House is managed by 130 regular volunteers who give material resources to the 175 families who pass through its doors during an average week. None of these volunteers are paid; they simply share a love for their community and want to help others.
Clients who come in are asked to complete some simple paperwork and are then given resources such as food, clothing, hygiene products and school supplies based on their need. People from anywhere in the Garland, Rowlett and Sachse communities are welcome. All that is required is a photo identification and proof of residence.
Eleven churches steadily support Friendship House with monetary donations, food drives and volunteers, giving evidence to the fact that it has had a profound impact upon its community.
"It's just amazing how God continues to bring everybody here that needs to be here," said Keith Christie, the charity's director.
The people at Friendship House are able to provide so much for the populace because of all the donations they receive. This cause has truly been a community effort for as long as it's existed.
Opportunities to help Friendship House are always available. If you are affiliated with a church or other organization, you can organize a food drive or collect other resources. You can also gather a group and schedule a time to help out at the location. Assistance with organizing supplies is a constant need. Volunteers must be 17 years or older unless accompanied by an adult. When supervised, groups such as National Honor Societies or church youth groups make great helpers. An additional way to pitch in is by providing a monetary donation. With this financial aid, Friendship House can purchase exactly what it needs to better serve the public.
The most needed form of support, however, is that of material donations. Friendship House can only give out what it receives. If you can provide food, clothing or any other supplies, Friendship House would be thrilled to find someone who needs them.
By offering a helping hand or donating, you can further the mission of First Baptist Church of Garland and Friendship House: "To fulfill the Great Commission with Excellence."
For more information, visit http://www.fbcgarland.org/fbg/friendship_house or the location at 620 West Avenue B, in Garland. You may also email friendshiphouse@fbcgarland.org or call 972-272-1010.