Garland Behavioral Hospital fights senior hunger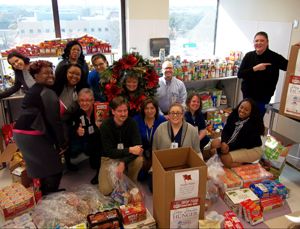 Garland Behavioral Hospital has participated in the Stop Senior Hunger annual food drive in years past but wanted to do something special for the 2017 drive (https://www.facebook.com/STOPSeniorHungerDallas333/).
Garland Behavioral Hospital has a specialty geriatric care unit and sees daily the toll that stress and neglect can have on area seniors. In late November 2017, the Service Excellence Committee at Garland Behavioral Hospital designed a friendly competition among hospital employees with a goal to create teamwork, camaraderie and blow away our past years' contributions to Stop Senior Hunger.
Three teams were formed combining groups of employees from different departments, floors and shifts in a way that brought together employees as a team that may not frequently interact. The competition was spurred on by the promise of a pizza party for the winning team and the teams became very cohesive as each team vied for the prestige of being the most giving team.
The teams got off to a good start in November.
Employees became very creative with ways to bring in donations of nonperishable food and pet food items that would fill area food banks for seniors. Brittany Miller asked her friends and family to donate pet food toward the drive in lieu of birthday presents for her November birthday. Amber Pavelka used a red wagon and flyers to visit her neighbors and ask for participating donations. When encouraged by the nursing staff, our GBH Physicians donated generously. George Morton, Director of Pharmacy, even as a vendor was motivated by our momentum and made a huge contribution.
As a Dec. 15, deadline was announced, staff gave generously and hospital staff buzzed each day about what team was pulling into the lead. To add perspective, we donated approximately 100 items to the 2016 Stop Senior Hunger food drive. When it was all said and done the hospital donated 2,056 items to this year's 2017 food drive!
In late December, a van was rented, and like Santa's sleigh, the elves at Garland Behavioral Hospital loaded all the collected food into the van and delivered the donated food to the recipient sites of The Senior Source www.theseniorsource.org and Sharing Life Community Outreach www.sharinglife.snappages.com
Garland Behavioral Hospital has been serving Garland and the surrounding communities since 2015. In this time, Garland Behavioral Hospital has built strong relationships with patients and referral partners that come to the hospital for help.
It is very important to Garland Behavioral Hospital that the community can rely on us to be here when needed. Garland Behavioral Hospital has a long-term lease with the management of Baylor Scott & White Medical Center of Garland. Recent announcements that Baylor is closing this facility March 1 will have no impact on the services offered by Garland Behavioral Hospital at this location. Garland Behavioral Hospital will continue to offer our services to the community while investigating opportunities to expand at this location and offer future outpatient services. Garland Behavioral has a full calendar of professional education and community informational events planned in 2018. Visit the website to learn more www.garlandbehavioralhospital.com