Garland brings home video awards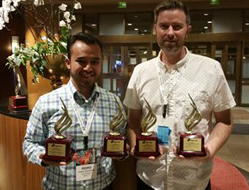 The city of Garland brought home four first-place trophies from the 32nd Annual Government Programming Awards, hosted by the National Association of Telecommunications Officers and Advisors.
Garland received first place in the following categories
The awards program was held Sept. 14 at the Grand Hyatt in Seattle, Washington. The program honors excellence in broadcast, cable, multimedia and electronic programming produced by local government agencies. This year NATOA received more than 900 entries from local governments across the country.
"Garland is fortunate to have a team of creative individuals who are dedicated to telling our community's story," said Public & Media Relations Director Dorothy White. "We couldn't be more proud of the work these talented people do, and we are humbled to be recognized nationally by our peers."
Garland's Public & Media Relations Department manages and assists with production of the City's Government Access Cable Channel (CGTV), Garland City Press and other publications, and the city website.
Pictured l-r: Motion Graphics Designer Pedro Hernandez and Video Producer Nick Gibson.
Information and photo provided by city of Garland.